Welcome To
Salem Art Fair & Festival!
July 16 – 25 2021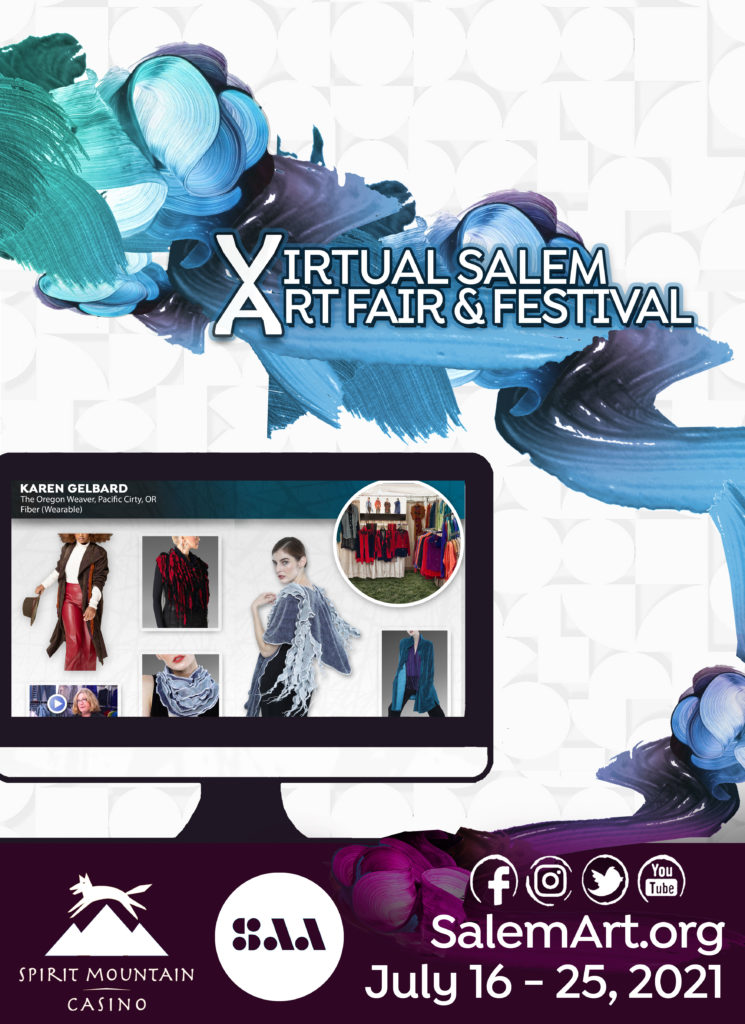 Join us for the 2021 Virtual Salem Art Fair & Festival, July 16 through July 25, presented by Spirit Mountain Casino and produced by Salem Art Association. During the ten days of the festival, visitors will find many of the same elements you've come to love at the annual event, including seventy-eight featured artist's "booths", musical performances, kids' activities, community partners, and more.
Guests can shop directly from the artists through their websites. In addition, some artists will be live streaming from their studios during the event on Facebook, Instagram, and Zoom.
We've added several in-person activities for this year's event, taking place at the recently opened Bush Barn Art Center and our Community Partners locations. For more details, please take a look at our schedule page. And stay tuned to social media to participate in raffles throughout the event.
Salem Art Fair & Festival is an honored 72-year-old event is one of the largest of its kind in the Pacific Northwest and draws artists from around the country. The Salem Art Fair has an outstanding reputation among participants and visitors alike, attracting 35,000 attendees annually.
---
2D Media
Mary Beier – Phoenix, AZ
Richard Curtner – Cathedral City, CA
Ingra Draper – Millcreek, UT
Ceramics
Carol Bauer – Freeland, WA
Walt Bensman – Salem, OR
Nicole Curcio – Portland, OR
Nick & Colleen Everett – Eagle, CO
Amy Fields – Portland, OR
Richard & Robin Sanchez – Eugene, OR
Christopher St. John – Eugene, OR
Cottage Crafts
Jan Byrkit – Mosier, OR
David Egnatz – McCall, ID
Sue Handman – Portland, OR
Marvin & Margaret Jack – Corvallis, OR
Curtis Norquist – Canby, OR
Drawing
Eileen Sorg – Kingston, WA
Brett Varney – Sechelt, BC
Glass
Steve Knox – Montezuma, NM
Janet Neuburg – Salem, OR
David Tate – Romoland, CA
Graphics and Print
Clare Carpenter – Portland, OR
Kelli MacConnell – Portland, OR
Fiber
Franscico Bautista – Sandy, OR
Carson Jansen – Tucson, AZ
Steve McGrath – Salem, OR
Claudia Paillao – Missoula, MT
Cheryl Cameron – Hillsboro, OR
Karen Gelbard – Pacific City, OR
Paulina Kriebel – Forest Grove, OR
Erin MacLeod – Portland, OR
Jewelry I
Mandy Allen – Portland, OR
Mari Aoki Knight – Salem, OR
Emma Bennett – Eugene, OR
Viki Ciesiul – Portland, OR
Ruly Deen – Spokane, WA
Tara FlyingHorse – Kettle Falls, WA
Sue Franklin – Beaverton, OR
Valerie Graham – Portland, OR
Jewelry II
Jennifer Graves – Woodinville, WA
Tyler Haas – Bend, OR
Marty Hogan – Portland, OR
Marilyn Lindsley – Corvallis, OR
Brianna Luce – Portland, OR
Alice Macdonald – Eugene, OR
Jen McCaw – Portland, OR
Hayley Nolte – Philipsburg, MT
Jewelry III
Elisa Saucy – Monroe, OR
Graham Silcher – Spokane, WA
Plonneke Thoolen – Vancouver, WA
Thomas Tietze – Portland, OR
Janet Wight – Phoenix, AZ
Celeste Wong – Springfield, OR
Donna Yutzy – Eugene, OR
Painting I
Paulina Archambault – Oregon City, OR
Jenny Armitage – Salem, OR
Erika Beyer – Eugene, OR
Lessa Clayton – Lebanon, OR
Adrianne Feldstein – Portland, OR
Wendy Givens – Oregon City, OR
Sarah Goodnough – Portland, OR
Painting II
Jaimee Lee – Eugene, OR
Jeni Lee – Portland, OR
Jennifer Lommers – Corvallis, OR
Molly Reeves – Lake Oswego, OR
Eryn Tehan – Clackamas, OR
Rebekah Zeimetz – Eugene, OR
Photography
Won ill Chung – Long Beach, CA
Tim Giraudier – Westfir, OR
Amanda Paul – Everett, WA
Lee Rentz – Shelton, WA
Cristi Mason-Rivera – Sheridan, OR
Metals
Shelly Durica-Laiche – Portland, OR
Jennifer Utsch – Healdsburg, CA
Wood
Neil Austin – Silverton, OR
Jeff Fuchs – Portland, OR
David & Carolyn Levy – Davis, CA
Gary McGuire – Woodburn, OR
Aaron Snyder – Salem, OR

Not only does this event support hundreds of artists, vendors, and community organizations …
it's also a vital fundraiser for the Salem Art Association (SAA), a non-profit established in 1919. Admission prices and memorabilia purchases help fund SAA's core programs: the Bush Barn Art Center, and Community Arts Education. SAA also operates the Bush House Museum on behalf of the City of Salem. Each year, SAA brings arts education to thousands of students in Marion, Polk and Yamhill counties; supports artists of all ages and experience levels through opportunities to create and showcase their work; connects the community to the arts through free-of-charge exhibitions and events; and provides and ever-expanding view into Salem's heritage.
Thank you for supporting the arts by attending the Salem Art Fair & Festival!
As Salem Art Association celebrates the end of our first ever Virtual Art Fair, the Board of Directors wishes to take a moment to express our gratitude to our staff and leadership. The success of our Virtual Art Fair is a tribute to our organizational strength and our commitment to support art and artists in our community. Find out more.

71st Annual Salem Art Fair & Festival gone virtual. July 18 – 19, 2020. Click here to visit the archived event