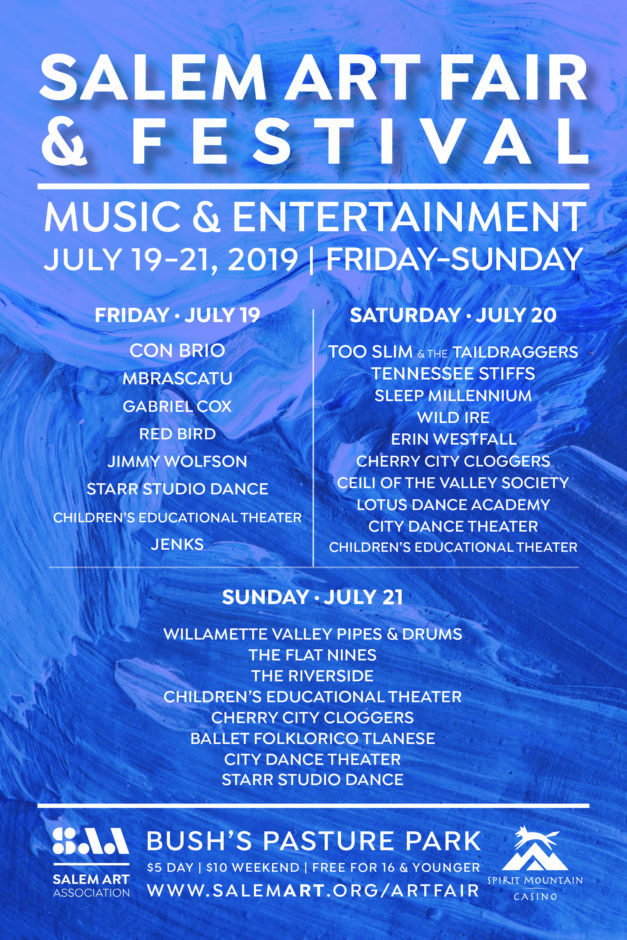 The Salem Art Fair & Festival hosts a range of entertainment on two stages in Bush's Pasture Park. The Main Stage is located in a natural amphitheater setting, under the canopy of towering, old-growth oaks and in close proximity to food and drink booths (including a craft beer and wine garden from Gilgamesh Brewing). Guests are encouraged to bring lawn chairs or blankets to sit on the grass, but a limited number of chairs and tables are also available. It is on the Main Stage that the Salem Art Fair & Festival hosts its headlining acts on Friday and Saturday evening of the event, after the Artist Marketplace has closed.
Located just south of the Main Stage in the Kids' Court area is the Family Stage. Family Stage acts are often interactive and upbeat, appealing specifically to younger audiences.
Your ticket purchase to the Salem Art Fair & Festival includes all entertainment acts on the day of entry. Rates are listed at the bottom of this page.
SAF&F Main Stage Performance Schedule
FRIDAY, July 19
12:00-1:00 PM | Children's Educational Theater
1:30-2:30 PM | Jimmy Wolfson
3:00-4:00 PM | Red Bird
4:30-5:30 PM | Gabriel Cox
6:00-7:00 PM | Mbrascatu
7:30-9:00 PM | Con Brio

SATURDAY, July 20
12:00-1:00 PM | Children's Educational Theater
1:30-2:30 PM | Erin Westfall
3:00-4:00 PM | Wild Ire
4:30-5:30 PM | Sleep Millennium
6:00-7:00 PM | Tennessee Stiffs
7:30-9:00 PM | Too Slim and The Taildraggers

SUNDAY, July 21
12:00-1:00 PM | Children's Educational Theater
1:30-2:30 PM | The Riverside
3:00-4:00 PM | The Flat Nines
4:15-5:00 PM | Willamette Valley Pipes and Drums
SAF&F Family Stage Performance Schedule
FRIDAY, July 19
10:30-11:30 AM | Jenks
12:00-12:45 PM |Premiere Academy of Performing Arts
1:15-2:15 PM | Children's Educational Theater
2:45-3:30 PM | Children's Educational Theater
4:00-4:15 | Starr Studios

SATURDAY, July 20
11:30 AM-12:15 PM | The Lotus Dance Academy
12:45-1:30 PM | City Dance Theater
2:00-2:45 PM | Ceili of the Valley Society
3:15-4:00 PM | Children's Educational Theater

SUNDAY, July 21
11:00-11:15 AM | Starr Studios
11:45 AM-12:30 PM | City Dance Theater
1:00-1:45 PM | Ballet Folklorico Tlanese
2:15-3:00 PM | Cherry City Cloggers
3:30-4:15 PM | Children's Educational Theater