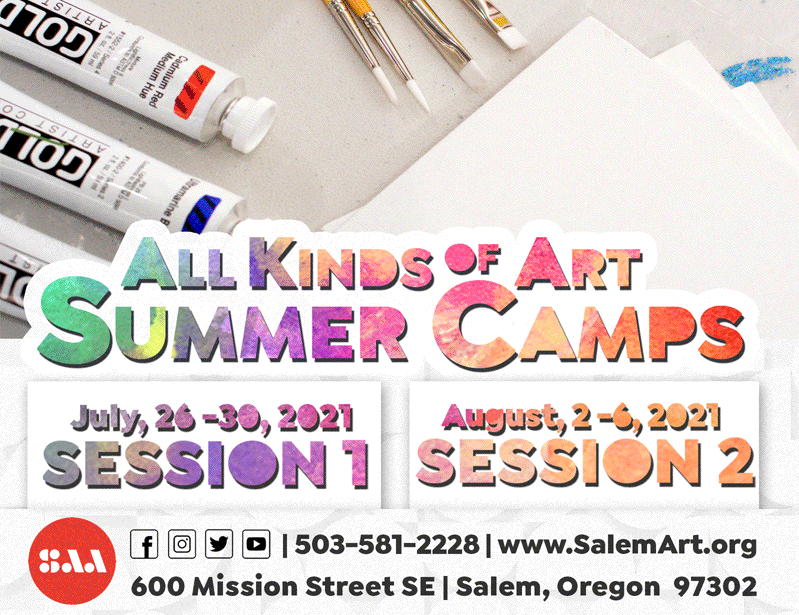 IN-PERSON SUMMER CAMPS ARE BACK AT SAA!
Following the health and safety guidelines from the Governor's Office and Youth Programs guidance from the Oregon Health Authority, the Salem Art Association (SAA) is excited to offer a modified schedule of summer camps in late July and early August 2021.

All of our camps will prioritize the health and safety of all participating children and adults.
COST
+ $135 per student per week.
+ Scholarship aid is available.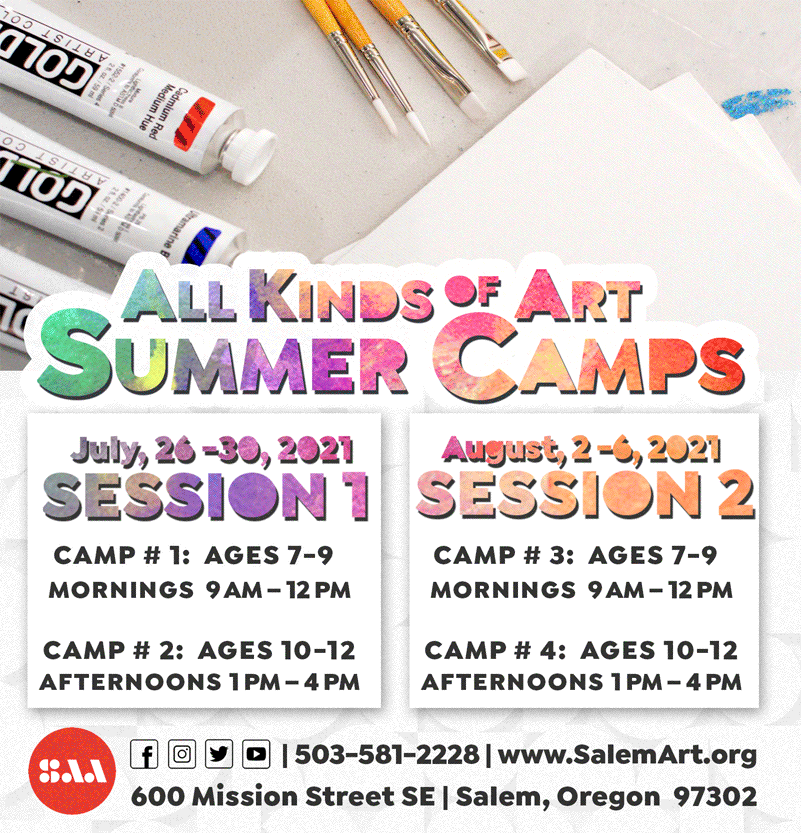 THE "ALL KINDS OF ART" SALEM ART ASSOCIATION SUMMER CAMPS
The "All Kinds of Art" summer camp allows children to explore a new medium each day. From printmaking to drawing to painting, clay, and photography, SAA Teaching Artists will support and nurture your child's curiosity and love for all kinds of art.
In addition to hands-on art-making activities, every day will include a mini "walking field trip" to the Bush House Museum and in beautiful Bush's Pasture Park.
Each session of the "All Kinds of Art" Summer Camps begins in the Bush House Museum. Depending on the art medium of the day, the Museum will engage children in an exploration of its collection of historic prints, paintings, ceramics, photographs or furnishings. The welcoming house museum environment provides a perfect opportunity for children to experience fine, decorative and folk arts in a nurturing setting.
All art supplies and a daily snack are provided to all campers.
SAFETY GUIDELINES
SAFETY GUIDELINES INCLUDE:

Mandatory mask wearing for all students, staff, artists, and volunteers
Enhanced sanitizing and cleaning procedures
Practicing social distancing
Small class size
Parents will drop off and pick up students outside of the building Bush Barn Art Center [Use the High and Bush Streets park entrance.]
All staff, instructors and volunteers receive ongoing training in these safety protocols. Masks are required to be worn inside Bush Barn Art Center and the Bush House Museum.
We are looking forward to welcoming students into the Bush Barn Art Center again! Our expectation is that families and students understand and agree to follow these safety guidelines if they choose to participate in classes this summer. If you have questions about COVID-19 protocols, class suitability or class content, please contact the Salem Art Association, Summer Camp Director at 503-581-2228. They will be happy to speak further with you!
The Salem Art Association is committed to ensuring the health and safety of our students, arts instructors, and the surrounding community. For more information, please visit SAA's Statement on COVID-19.