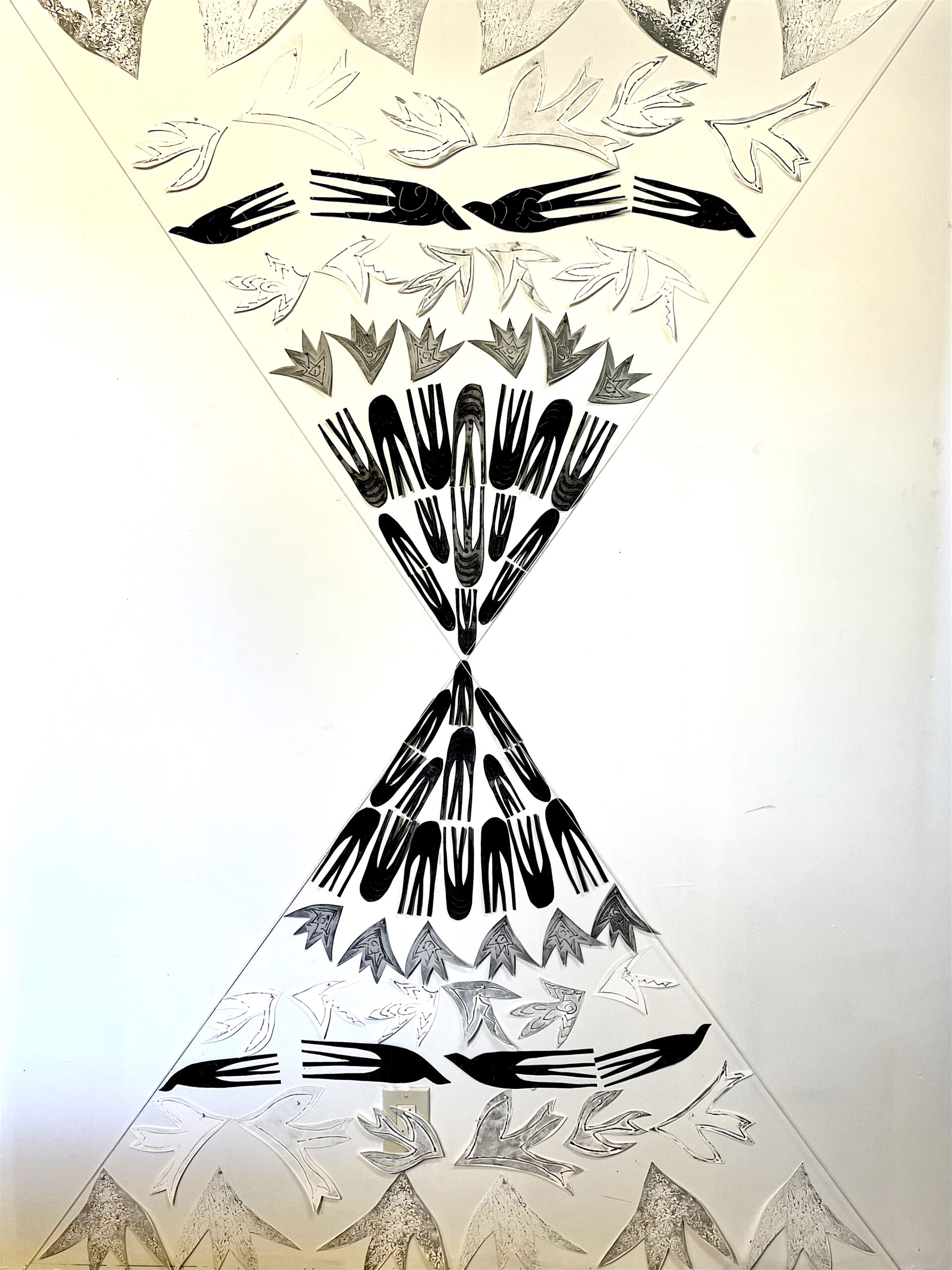 MURMURATIONS | ANN KRESGE & MIKE NORD
Murmurations | Ann Kresge & Mike Nord
SEPTEMBER 1 – OCTOBER 21, 2023 | ANNEX
RECEPTION: FRIDAY SEPTEMBER 8, FROM 5:30 PM – 7:30 PM
ANN KRESGE ARTIST STATEMENT
The visual work for this exhibition evolved over time from concept to dreaming to exploring materials to creating. The theme represents the coalescing and dispersing of forces and elements. I was initially inspired by the patterns created by birds in the sky, known as murmuration. I expanded that definition through a vocabulary of shapes and images to express the notion of gathering, interaction and diffusion. The exhibition includes printmaking, book arts, handmade paper and installation. The work was created during an Artist In Residency at Women's Studio Workshop in NY and my home studio in Santa Fe, NM.
MIKE NORD ARTIST STATEMENT
The Murmurations soundscape aims to transform the Annex Gallery environment into one that is sonically enveloping and time-based. This is intended to heighten viewers' interaction with Ann's works in the space and their connection to the coalescing and dispersing that creates murmuration. The sound sources used in the work are both electronic and organic. The latter were primarily recorded in or around our home and studios in Santa Fe, New Mexico. Working intuitively, sounds were processed and "assembled" in a laptop-based sequencing environment and mixed for the gallery space.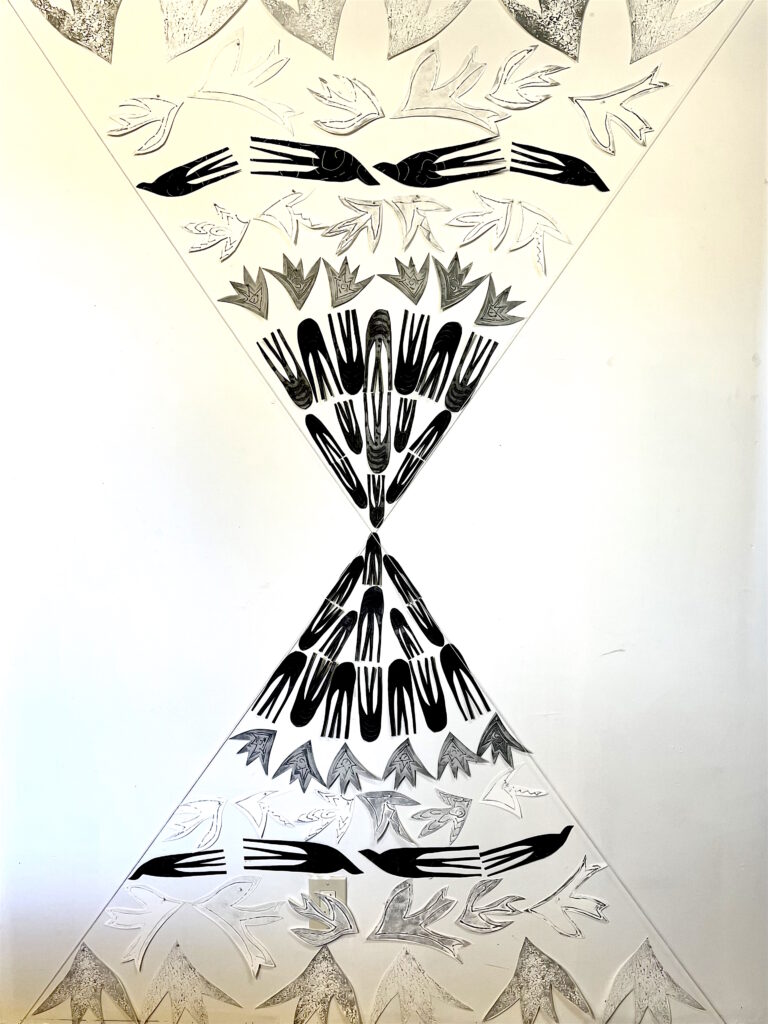 We thought about this theme and collaboration for several years. I was introduced initially to a murmuration when friends took me to see the Vaux Swifts return to a school chimney in Portland. I did not yet know the word for it but was fascinated by their swirling
together en masse into and out of the chimney. This activity was mirrored by the many people who gathered to witness it, to share a powerful experience, interact with each other and then disperse.
I later learned the word murmuration when I was an Artist in Residence at Vermont Studio Center. Other artists and writers were excited about the concept as well and shared videos of this amazing visual phenomenon. Though most known amongst birds, I realized that many of nature's creatures gather and disperse in amazing patterns, as do clouds and sea currents.
When Mike and I decided to do another collaborative visual/aural collaboration I suggested this theme. We both felt it had wonderful art and sound possibilities. We then started creating the raw materials for the show, my making prints and Mike recording sounds. The setting of our home studios in Santa Fe became part of our inspiration. Mike took samples from the soundscape surrounding his music studio and processed them electronically. He also designed original sounds using a variety of synthesizers well as synthesized electronic sounds. My color palette was affected by the vivid sunrises and sunsets. (And I must mention the transformative experience of being caught in the middle of a swirling New Mexico dust devil!)
Over the last year we continued to make work for the show, most significantly for me as an Artist in Residence at Women's Studio Workshop in NY. There I made the large prints and cast paper pieces, all with the space of the SAA Annex Gallery in mind. Mike worked happily in his home studio, inspired by its natural surroundings.
We hope you will explore and immerse yourself in this Murmuration, a gathering of visual/sound experiences.
ABOUT Ann Kresge
Ann Kresge is an internationally exhibited artist and is in university, museum and private collections. These include: The Metropolitan Museum of Art, The National Museum of Women In The Arts, The Victoria and Albert Museum, Getty Art Museum, Yale University, The Milwaukee Art Museum, the New York Public Library and the US Library of Congress. She has been an Artist-In-Residence at Playa, Ucross, Djerassi, MacDowell Colony, Artlife Latinoamericano, Atellier 17, Women's Studio Workshop, Proyetcto'ace and a Library Fellow at National Museum of Women In the Arts. She has taught at Sitka Center, SAA, Bend Art Center, SUNY New Paltz, WSW and Bard College. Her work is featured in many publications including The Printmaking Bible. Ann has a BA in Studio Art from Smith College and MFA in Printmaking, Pratt Institute.
Formally of Salem she currently lives and creates in Santa Fe, NM.
ABOUT Mike Nord
Mike Nord is a guitarist, electronicist, and composer based in Santa Fe, New Mexico. As an improvising performer he has appeared at festivals, theaters, clubs, gallery spaces, and other venues internationally in musical and music/dance collaborations. Mike has recorded albums for PJCE, Leo Records, Nabel Records, and P7. He is married to Ann Kresge, and they have collaborated on interart works in a number of different settings in the US and abroad.