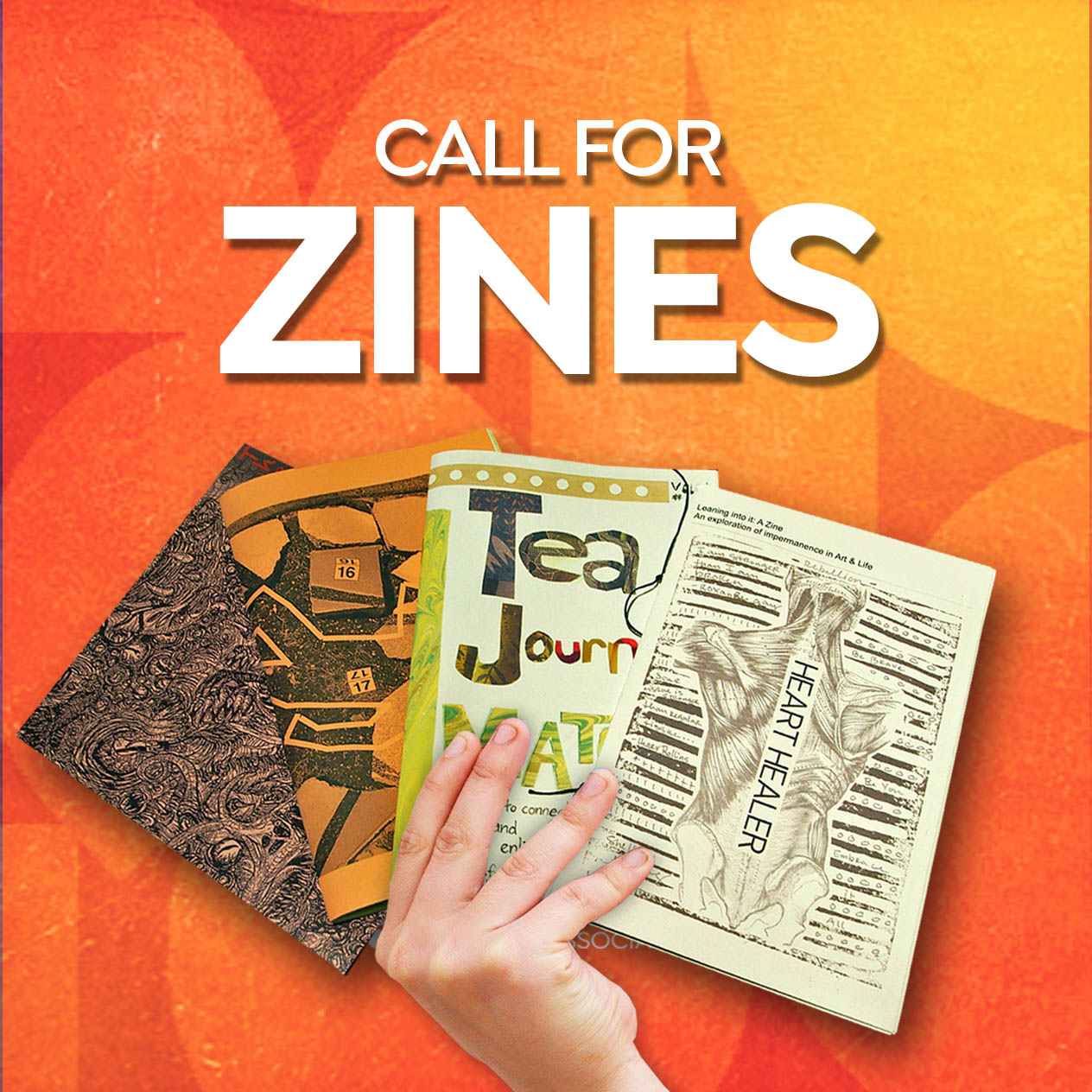 ZINE SHOW
Zine Show
September 1 – October 1, 2023 | Focus Gallery
Reception: Friday, September 8 from 5:30 – 7:30 p.m.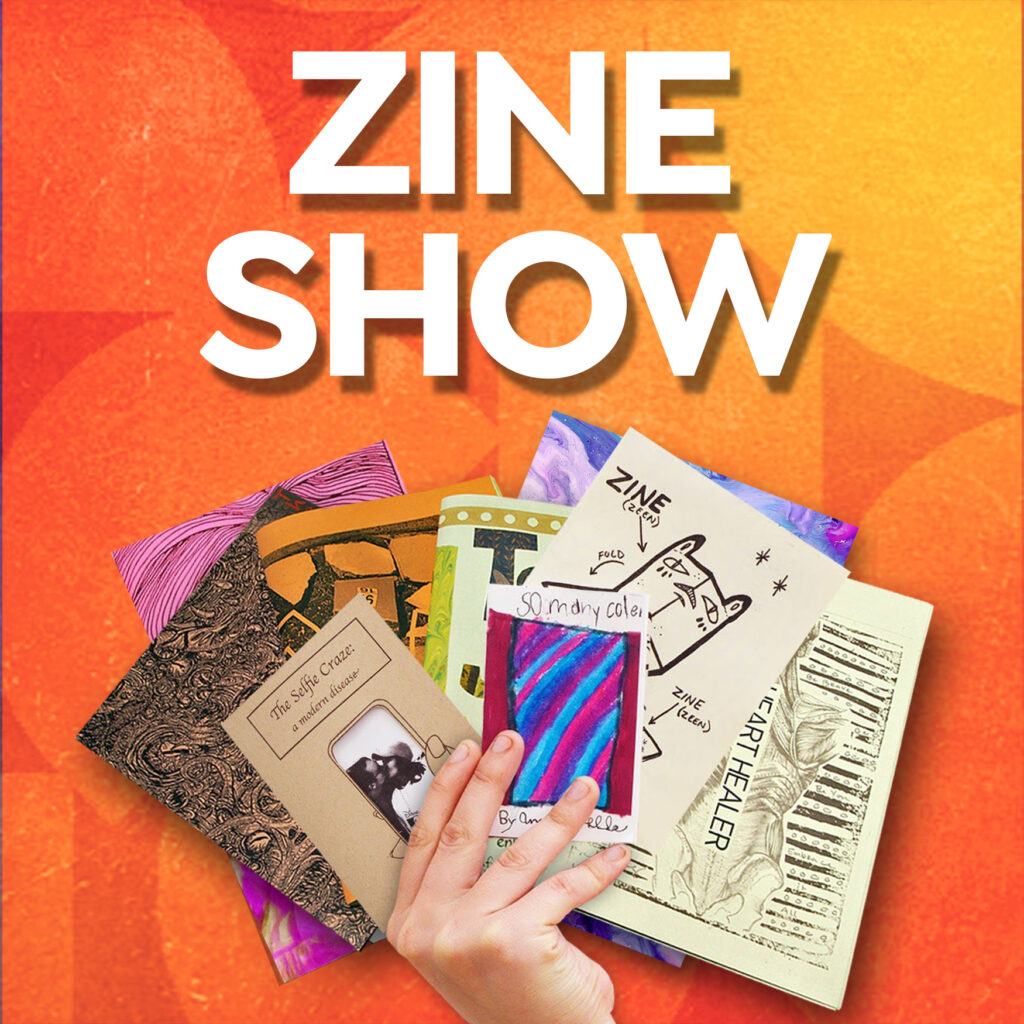 Explore the rich world of zines through works submitted by artists, writers, and members of Salem's creative community!  Learn about other parts of SAA's zine project!
ALL things zines!
---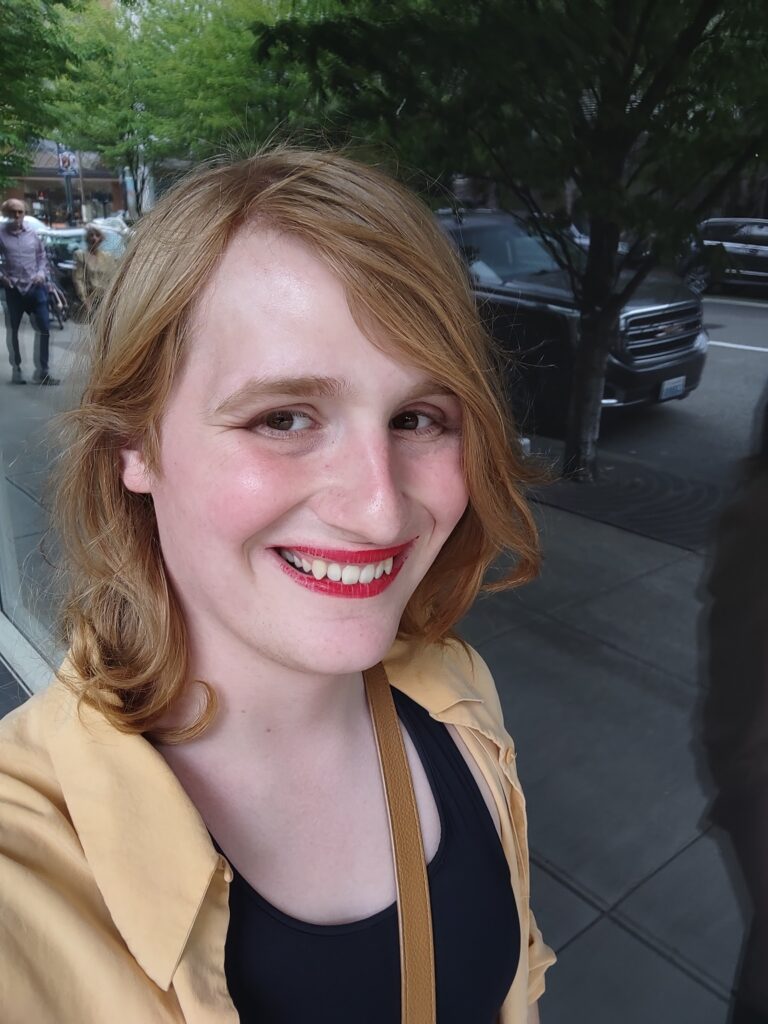 ZINE ARTIST IN RESIDENCE | VICTORIA TIMM
During the Zine Show, we'll have Artist in Residence Victoria Timm in our SAA STUDIO!
ZINE INTERN
In Spring 2023, Adam Romano completed a remote internship with SAA to create –
What is a Zine? Part I and II
Zine Map
These have greatly contributed to the Zine Project, and we are grateful for his input and participation.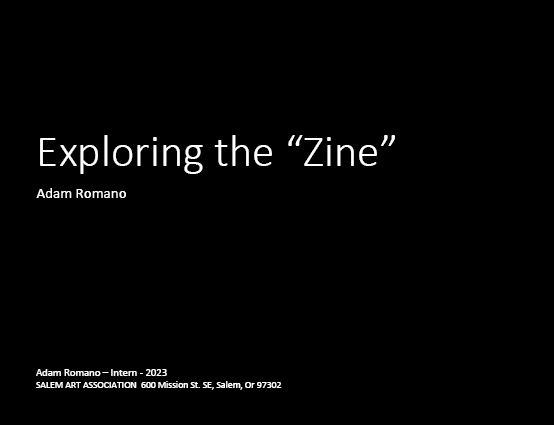 ART KITS!
We have Zine Art Kits, available at SAA on the Annex Landing! Pick one up next time you stop in at SAA!
WORKSHOPS
Next up are Zine Making Workshops COMING SUMMER 2023!
Locations will vary … stay tuned!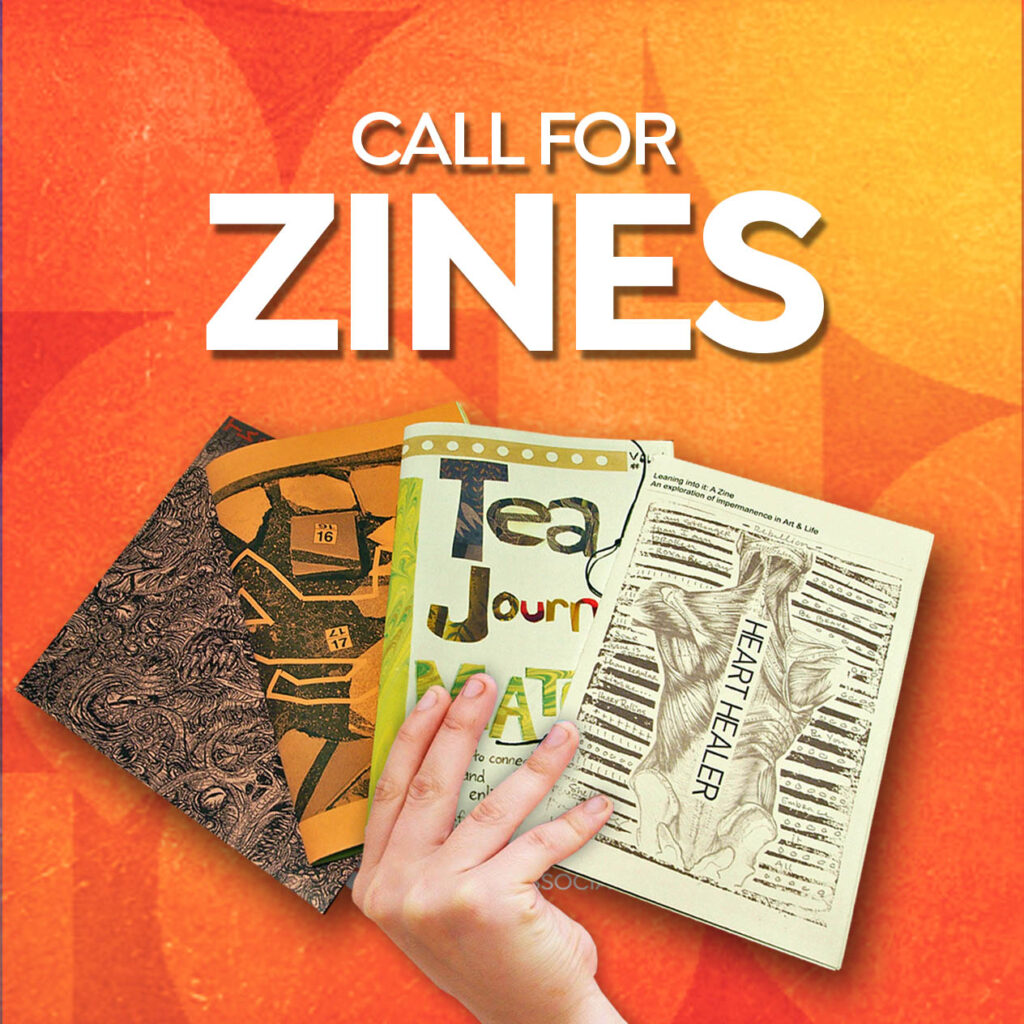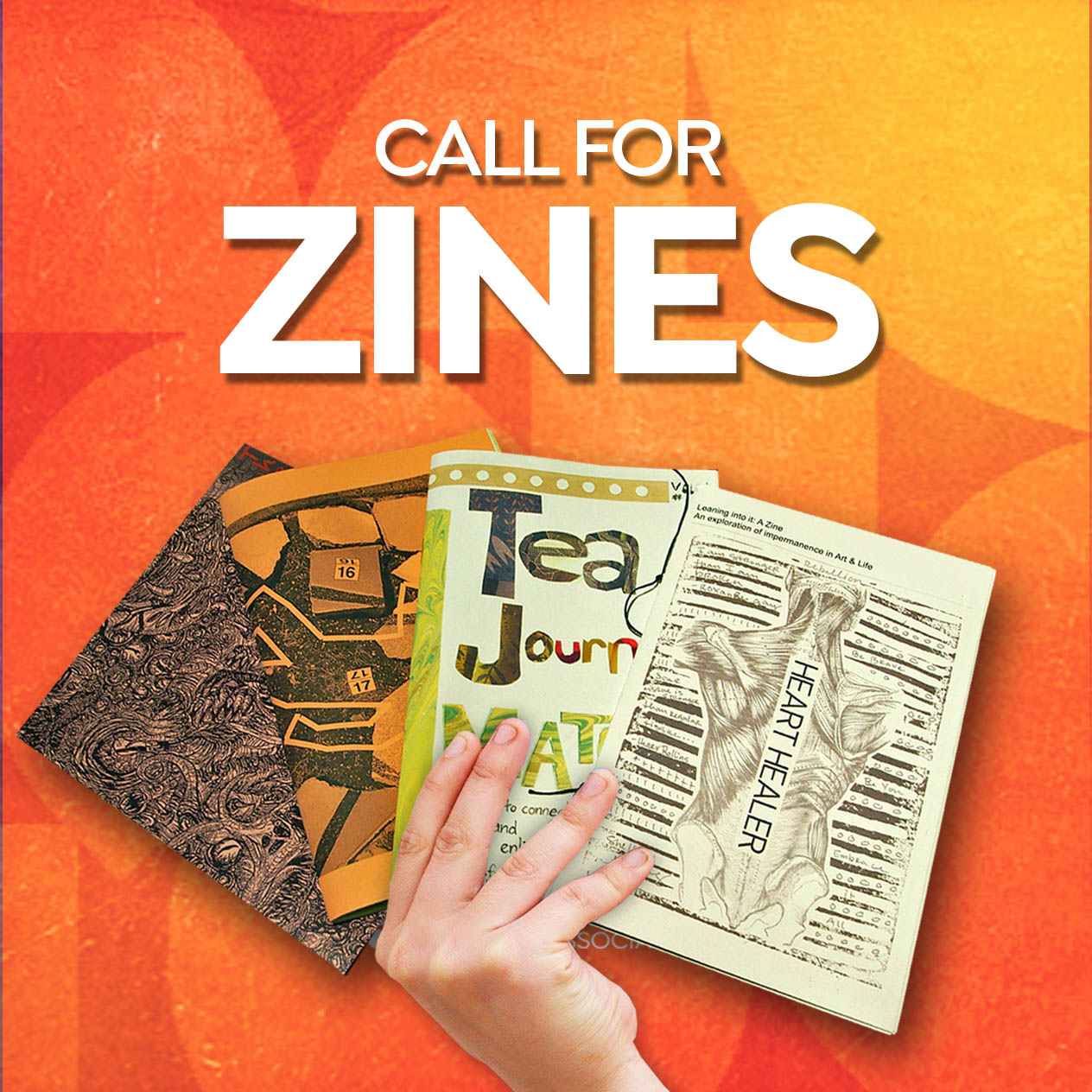 The Salem Art Association (SAA) seeks artists, writers, creatives and community members to participate in zine submissions throughout the year for our Salem Art Association Zine Collection and Library. This Collection houses ZINES from across Oregon covering a wide range of topics and is permanently housed on the SAA Annex landing.
SAA welcomes all artists making original zines to participate and invites multi-media artworks, and artists and writers who identify as immigrants, refugees, disabled, LGBTQ+, people of color, veterans and/or rural artists are strongly encouraged.
SMALL BUSINESS COLLABORATION
Sixteen Salem downtown and area businesses are participating in SAA's Site – Specific Zine Downtown Business Collaboration. A pilot of 100 zines have been disbursed to each location. To find them, see the Zine Map! Or come by SAA and pick one up! You will have another chance to find them in September, as 100 additional zines will be disbursed to the businesses, as well as being exhibited as part of the Zine Show in SAA's Focus Gallery.
---
Participating Businesses –
Willamette Art Centerthey are in the Oregon Fairgroundshttps://www.willametteartcenter.com/
Ernie and Gray329 State Street, Salem OR
https://www.ernieandgray.com/
Epilogue Kitchen508 State Street, Salem OR
https://epilogue-kitchen.square.site/
Art Department254 Commercial St NE, Salem, OR
https://artdepartmentsupply.com/

Becka Makes Buttons950 Commercial St SE, Salem, ORhttps://beckamakesbuttons.com/
Archive Coffee & Bar120 Liberty St NE, Salem, OR
https://www.archivecoffeeandbar.com/
Salem Cinema1127 Broadway St NE, Salem, OR
https://salemcinema.com/
Harvest Music1055 Commercial St SE, Salem, ORhttps://m.facebook.com/HarvestMusicOnline/
The Arbor367 State Street, Salem, OR
https://arboronstate.com/
The Book Bin450 Court St NE, Salem, OR
https://bookbin.com/
IKE Box299 Cottage St NE, Salem, OR
https://www.ikebox.com/
Xicha Brewing576 Patterson St NW, Salem, OR
https://www.xichabrewing.com/
La Margarita Co.545 Ferry St SE, Salem, OR
https://lamargaritasalem.com/
Court Appearance Styling Studio251 Court St NE, Salem, OR
https://www.facebook.com/courtappearancestylingstudio/
Willamette Valley Music Co
https://www.wvmc.net/
CreativiTee
Participating Artists –
Norah Steed
Rachel Clark
Annabella Ramey
Ryan Mitchell
Jessica Rehfield
Heather Skinner
Marina Menegol
Josefina Bovee
Jessica Ramey
Eric Tautkus
Victoria Timm
Cory Timmons
Bios
Josefina Bovee
Josefina Bovee is an artist and cartoonist. She likes comic books, theater, and going for long walks. She makes all kinds of art and enjoys collaborating with others to make zines and cartoons.
Marina Menegol
Marina Menegol has been writing zines and doing photography for over 30
years. She has been an active participant in the Portland Zine Symposium in
2002-2013, a member of Portland's Independent Publishing Resource Center,
and an avid promoter and customer of Independent Bookstores and publishing
houses in the Pacific NW. Since moving to Salem, Oregon in 2016, she has
been delighted to learn of Salem's thriving creative community. She helped
start a local meetup group for zinesters to work together, collaborated with
them on a zine called "Resonance Effect", which features essays and local
artwork related to the global shutdown during the 2020 pandemic, and has
worked as a volunteer zine library organizer for Salem Art Center. She holds
a BA in Journalism from University of Oregon and is currently interested in
promoting Media Literacy in the Digital Landscape among children and adults
of all ages.
Bella Ramey
Annabella Ramey (They/she) is a stylized artist who loves to dabble in any art mediums they can get their hands on. Heavily inspired by comics, graphic novels, and animation she enjoys illustrating both stories and characters in visually exciting ways. Currently, they are studying art and design at Western Oregon University and serves the Salem art community while working at the Art Department.
Jessica Ramey
Jessica Ramey is a creative goof who loves to geek out over anything artsy. She loves artful play but also likes organizing community art events. Some projects she has created include: Repair Fair & Share, Free Art Friday, DIY Studio (Salem's first creative reuse center), Salem Puppet Parade, Trashion, Community Supported Arts&Culture, Art Rumble, Tiny Art Show, and Urban Sketchers Salem. Currently, she is the owner of the Art Department, an arts and crafts supply stop in downtown Salem.
Heather Skinner
I have my Bachelor of Arts degree in Art from Western Oregon University with a split focus in Design & Fine Art. I have been a graphic designer for several years and have always been intrigued with exploring artist books and zines. It is exciting for me to explore a theme and play with how to push the boundaries of narrative, typography, layout and overall aesthetics.
In the past few years I have gotten involved with exploring ceramics as an art form, and connected with the Willamette Art Center, so I'm happy to be partnering with them on this zine project where we are exploring the theme of "Community" through "Ceramics as a Metaphor for Life."
Norah Steed
Employing a mixture of bright colors, bold lines, and found objects, Norah Steed explores the relationship between environment and self. Her own environmental influences (including music, religion, and mid-century dystopian fiction) can be read in her work through themes such as control, freedom, power, and the feeling you're being watched. Fascinated by the malleability of identity, Norah sees art as a way to unravel the forces acting upon her and build an identity independent of external input or approval.
Norah Steed lives in Monmouth, Oregon, and can be contacted at norahsteed.art@gmail.com.
Victoria Timm
Victoria "Tory" Timm is a Salemite zinester. She got her start making zines after seeing the work their sister was doing with the medium. She also wanted a place to publish her poetry. She is extraordinarily queer, neurodivergent and anti-capitalist. Also she really hates car based infrastructure and really loves jazz, sci-fi and books. Her zines can usually be found at Book Bin, Blast Off! Vintage, or the Art Department. She occasionally performs her poetry at Infinity Room and can be found on Instagram @vickkunst
Jessica Rehfield
Jessica Rehfield (they/them) is an interdisciplinary artist with a love of words and images. They teach art in schools including foundations for drawing and collage, and have been an Artist in Residence with The Arts Center in Corvallis and Salem Art Association.
Encouraging creative expression, collaboration and exploration of mistakes are hallmarks in their teaching philosophies. Jessica teaches found poetry zines using upcycled materials like old magazines and sheet music at The Arts Center and in Salem and enjoys constructing zines using collage, photocopying, and old school cut-and-paste techniques, with a utility knife and cutting mat. Give them two hours to cut-and-paste a poetry collage zine and you'll see a happy zine artist! Jessica's favorite zines are about worms and use descriptive images and words about feelings. Find Jessica's work in the Zine Library at Salem Art Association and jessicarehfield.com