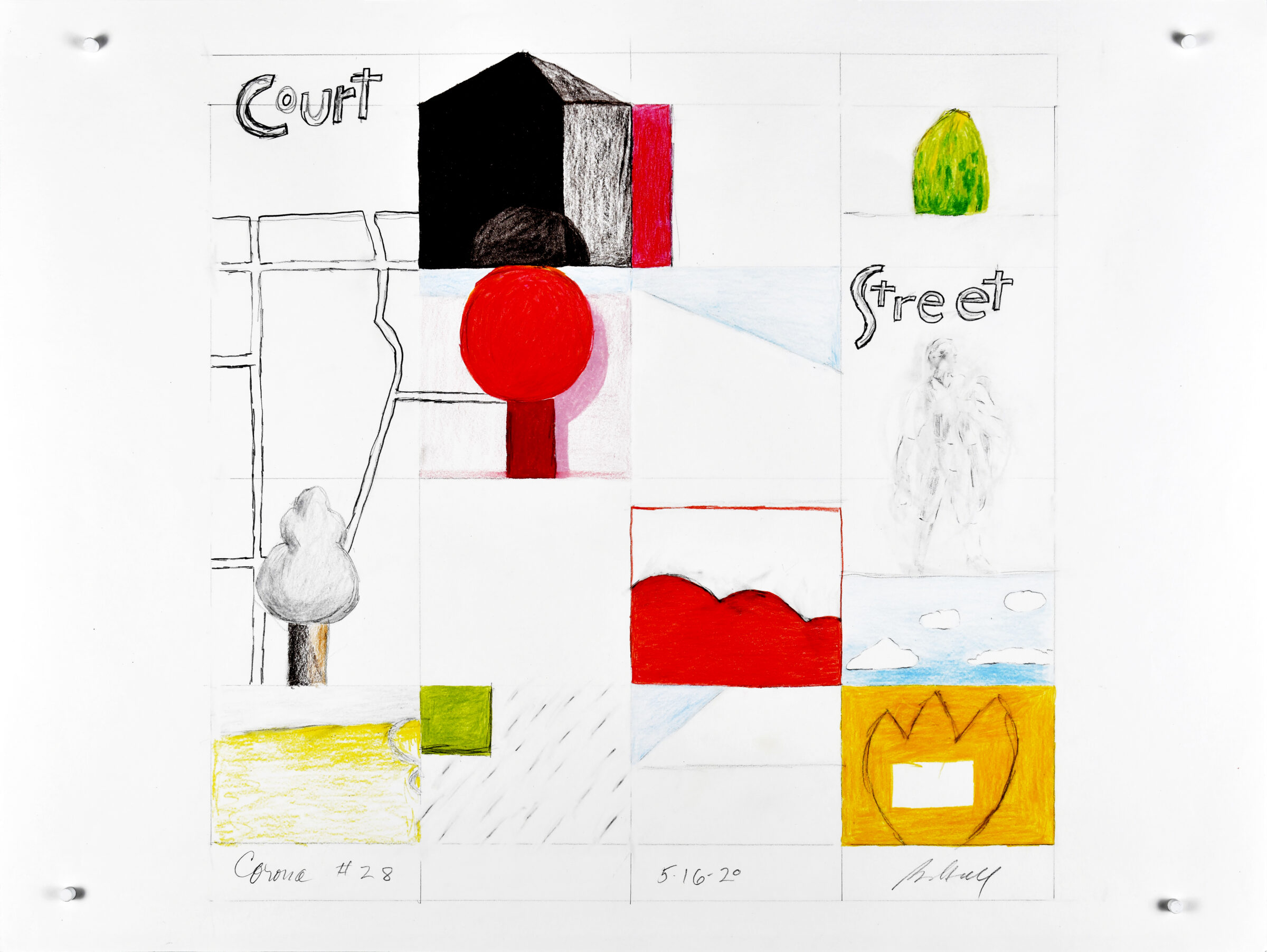 MARKING TIME | BONNIE HULL
MARKING TIME | Bonnie Hull
November 11 – December 24, 2022 | A.N. Bush GALLERY
Reception November 11, 5:30 pm – 7:30 pm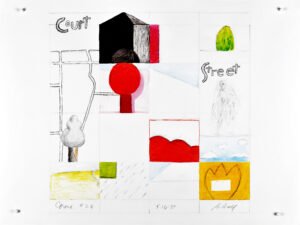 Bonnie Hull is a painter, a preservationist, a gardener and a quilter, who has been an active member of the Salem artistic community for many years. Her work is as unique and interesting as she is herself.
The exhibition, 'Marking Time" is an acknowledgement of Bonnie's tremendous influence over the artistic community in Salem, and indeed Oregon.
We bring 'Marking Time' to visitors as an example of how much can be achieved when an artist dedicates time, talent, creativity and skill to her work. We hope you will enjoy, admire, and learn from the exhibition. You may even be inspired to create!
ARTIST STATEMENT | Recent Work by Bonnie Hull
Marks can be organized to tell stories, to be generally expressive, to describe pain or to give comfort. Mark making as an activity is exhilarating and tiring, both funny and sad but always absorbing.
I've been making marks of varying types for my whole life and not a day ever goes by that I don't draw or quilt or paint. The marks here describe the times of my life. Two of the quilts hold pieces of my wedding dress. Sidney and Vivien are here, the beach, loved ones…both family and friends. The pandemic is here and all the thoughts familiar to all of our heads about living and dying and about all that comes in between.
Most of the work in this exhibit has been made in the last three years, with a few exceptions.  Works inform each other and contribute to a continuing narrative, some of which you can see and some of which is buried, like the knots in a quilt.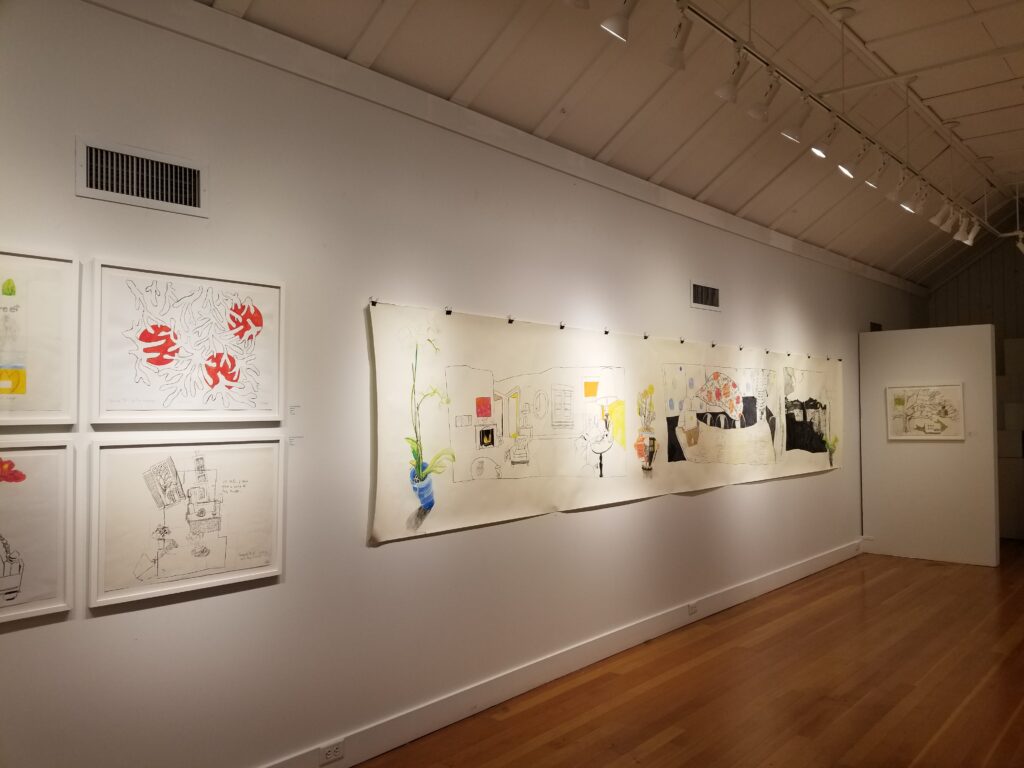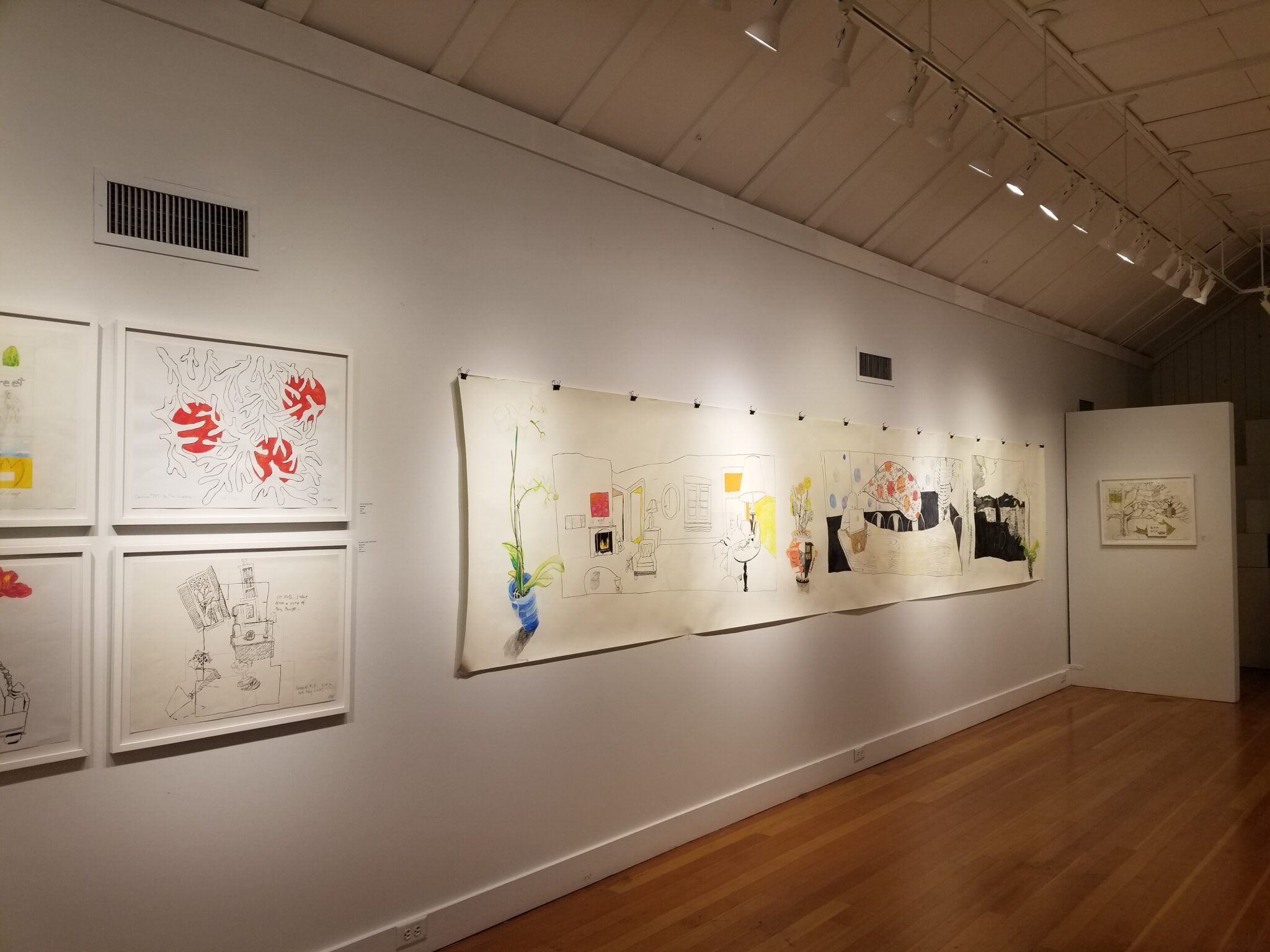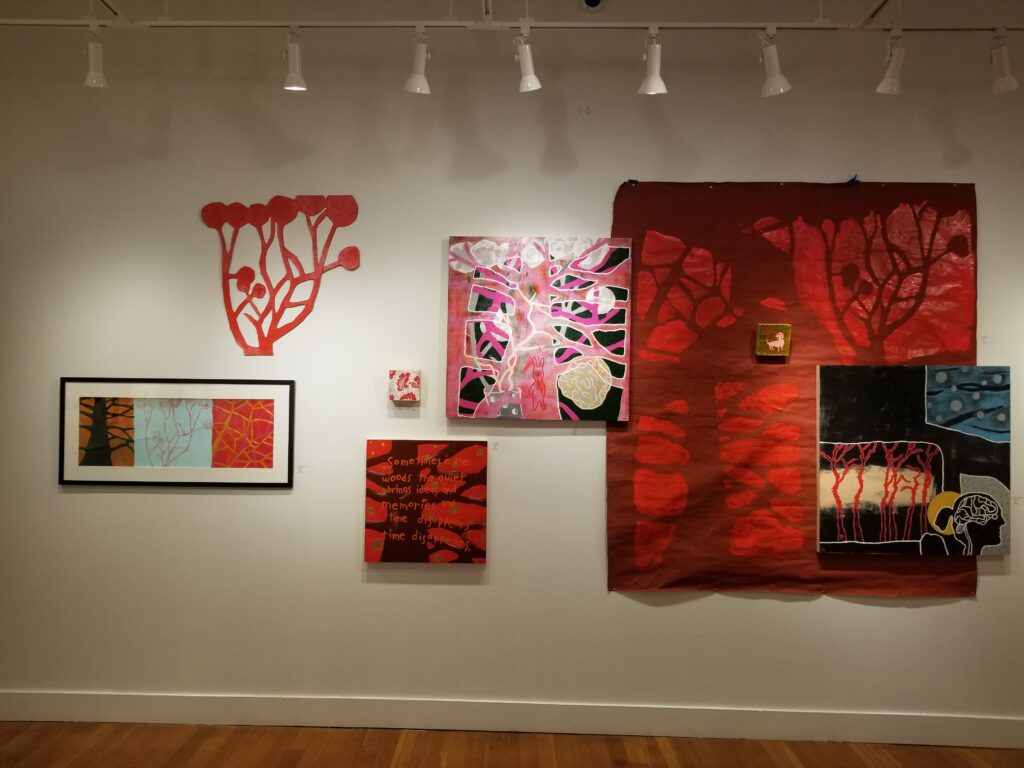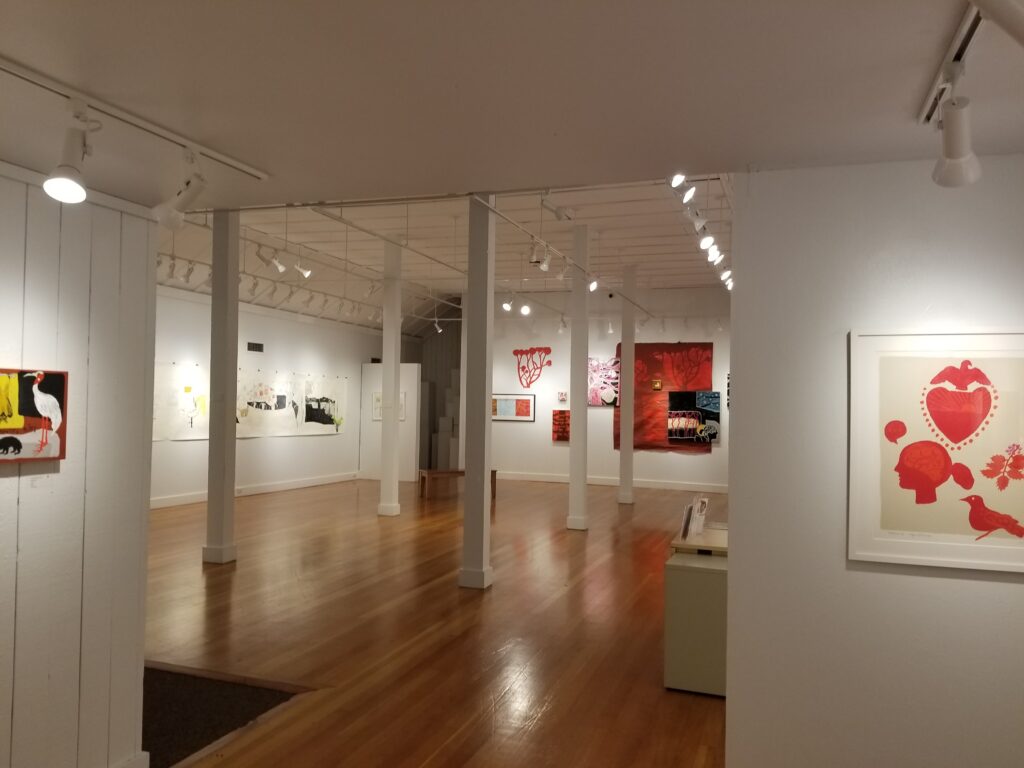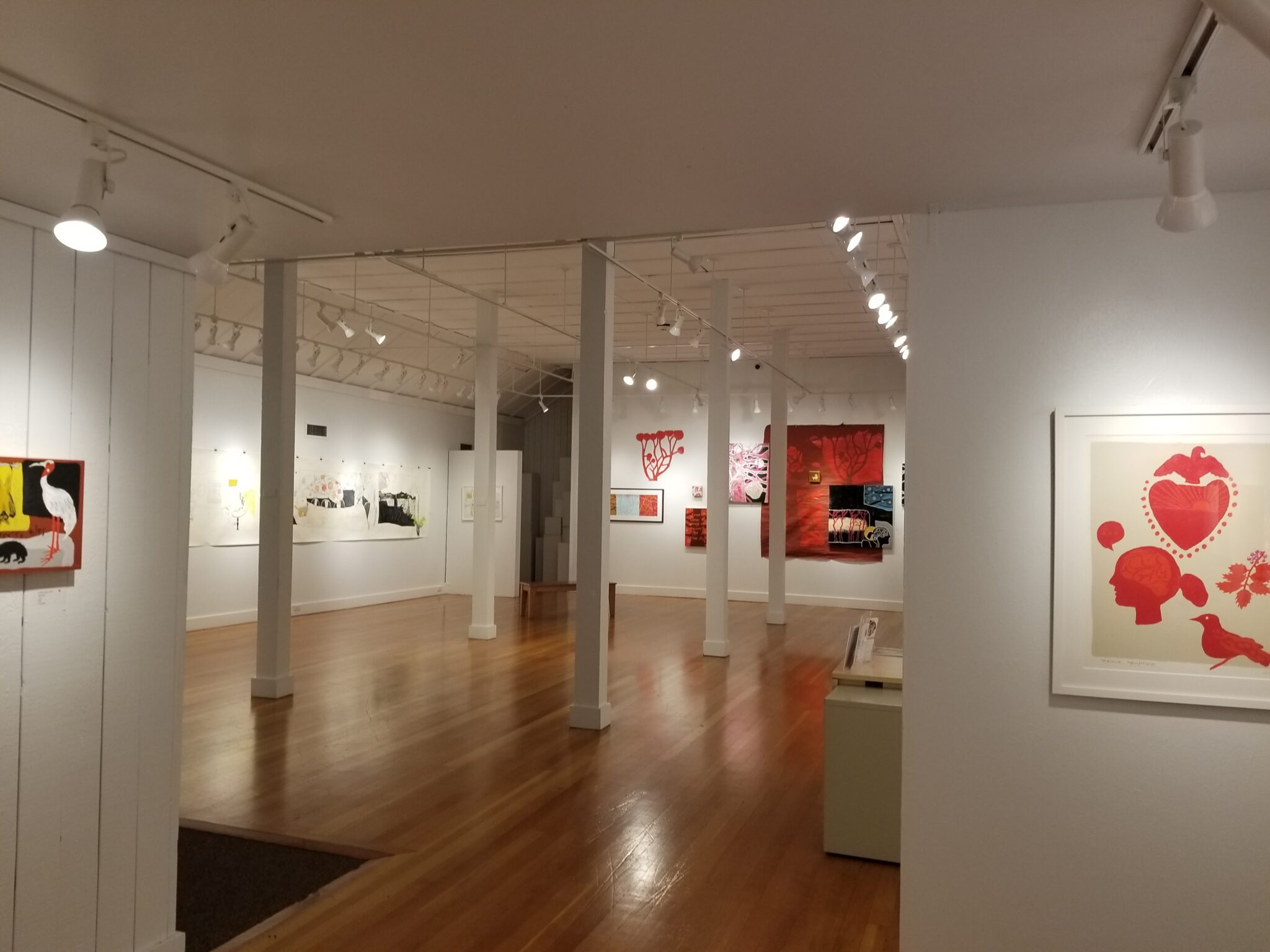 ABOUT THE ARTIST
Bonnie Hull is a painter, a preservationist, a gardener, a quilter. She was an Artist in Residence at Bush Barn Art Center in 2010, in 2017, and in 2020 . Her recent solo shows include "Little Me" at the Minthorne Gallery at George Fox University in 2019 and "Memory as Myth" at the Hallie Ford Museum of Art in 2020. Her solo show "Marking Time" will be presented at the AN Bush Gallery at the Bush Barn Art Center, November 11-December 24, 2022.
As an active community member in Salem since 1970, Hull was involved in establishing two of Salem's historic districts, co-owned the Arbor Café in Salem for 13 years, and has been active on the Bush House Restoration Committee, the Downtown Development Board, the Lord and Schryver Conservancy and other community groups.
Hull has served as a jury member for a variety of art shows, and in 2011 co-curated "Lord and Schryver: Shaping our Cultural Landscape" at the Hallie Ford Museum of Art, and "Bits and Pieces: Improvisational Quilts from the Pacific Northwest and Beyond" at Bush Barn Art Center also in 2011.
Hull and Salem artist Kay Worthington had a two-person quilt show at George Fox University in November 2015, and another two-person quilt show at Chemeketa Community College in October 2016. She continues with her 2D practice as a studio participant at the Art Studios at the Mill at the Willamette Heritage Center where in 2016 she ran the Compass Gallery with artists Dayna Collins and Tory Brokenshire.