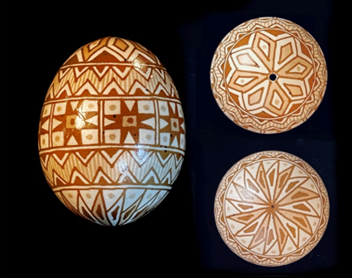 PYSANKY: UKRAINIAN EGGS PROJECT
PYSANKY: Ukrainian Eggs PROJECT
Wednesday, January 18 through Sunday, January 22, 2023 | BUSH BARN ART CENTER
ARTIST DEMONSTRATION: Sunday, January, 22

Jenny Orr, the artist, will be present in the gallery Sunday on January, 22 from 12 noon until 2 p.m. and will explain the process and the history behind the creation of pysanky easter eggs.
All proceeds raised from this project will be donated to Salem for Refugees, to provide direct assistance to Ukrainian refugees in our area. 
---
ABOUT PYSANKY BY JENNY ORR
Ukrainian Easter Eggs (pysanky) are made using a centuries old wax-resist (batik) technique. The name comes from the verb pysaty which means "to write" because the egg is not painted but rather "written" with beeswax using a stylus (kistka) before being dipped in dye. Multiple colors are achieved by writing and dipping the egg repeatedly. The designs incorporate many different symbols representing life, fertility, the sun, plants and animals, among other things. However, many of the meanings have changed over the centuries or been lost. Long considered purely as a folk art, pysanky are gaining recognition as fine art now that artists are taking the craft to a new level. Since the Russian invasion of Ukraine in 2022, pysanky have also gained new importance as a symbol of peace and the unique culture of Ukraine.
A design often starts with one of many traditional division patterns. Once this division is selected, smaller detailed patterns and symbols are added. Eggs with the same division pattern can look completely different. Non-traditional division patterns and freehand designs are also common.
---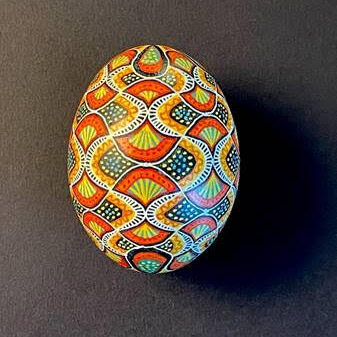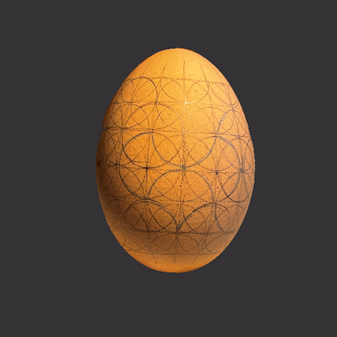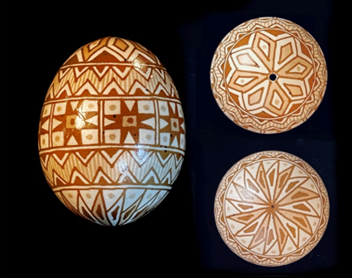 ---