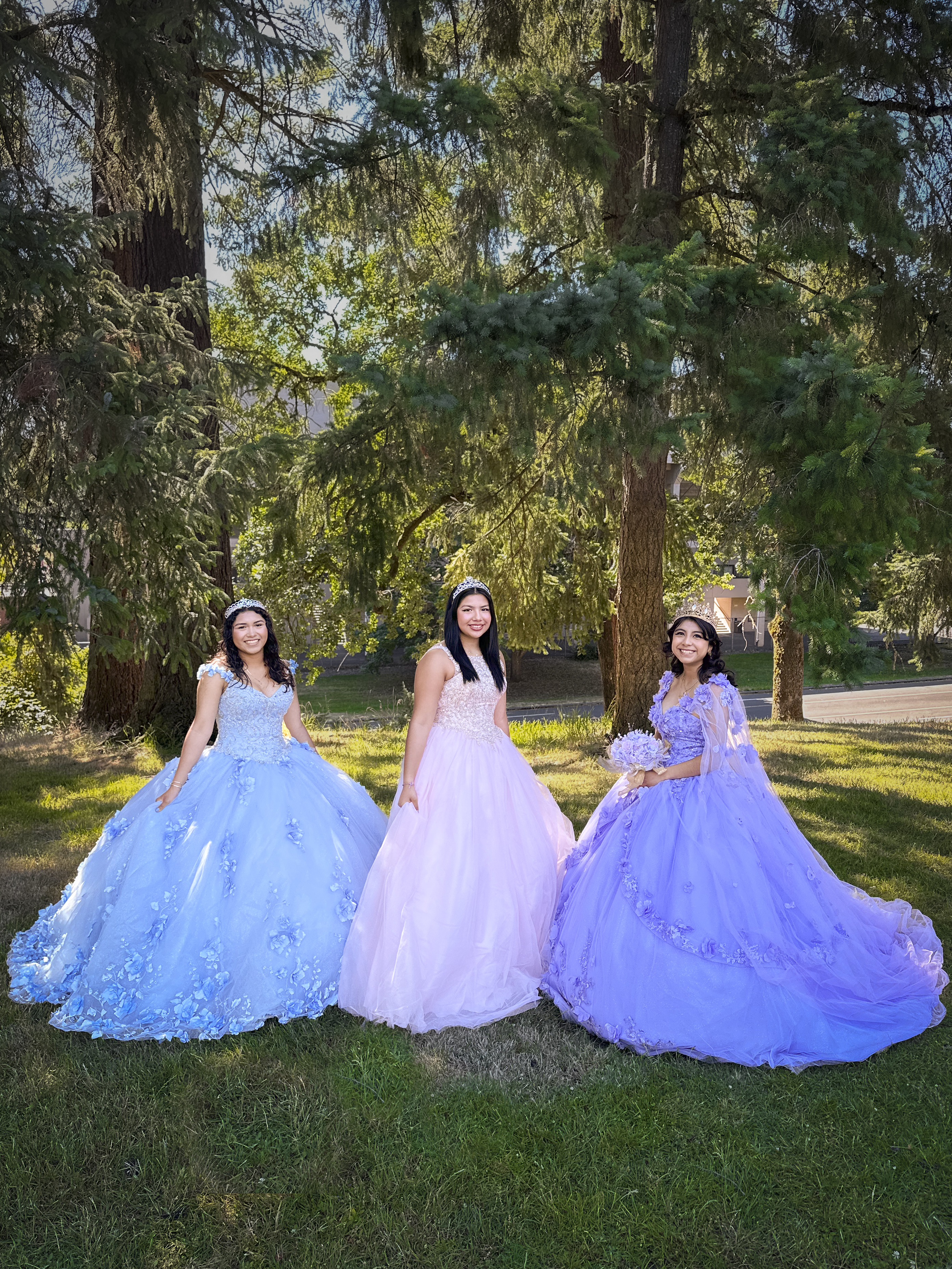 THE QUINCEANERA PROJECT| EL PROJECTO DE LOS QUINCES
The Quinceanera Project | El Projecto de los QUINCES
October 6 – 29, 2023 | FOCUS GALLERY
RECEPTION: SAturDAY, october 7 FROM 2:00 – 4:00 PM
With the idea of encouraging young people to be excited about making art and expressing their cultural heritage, we have created an exhibition this fall entitled The Quinceanera Project.
The idea behind this exhibition was to involve High School students from beginning to end in the process of creating an exhibition of photography that was meaningful to them.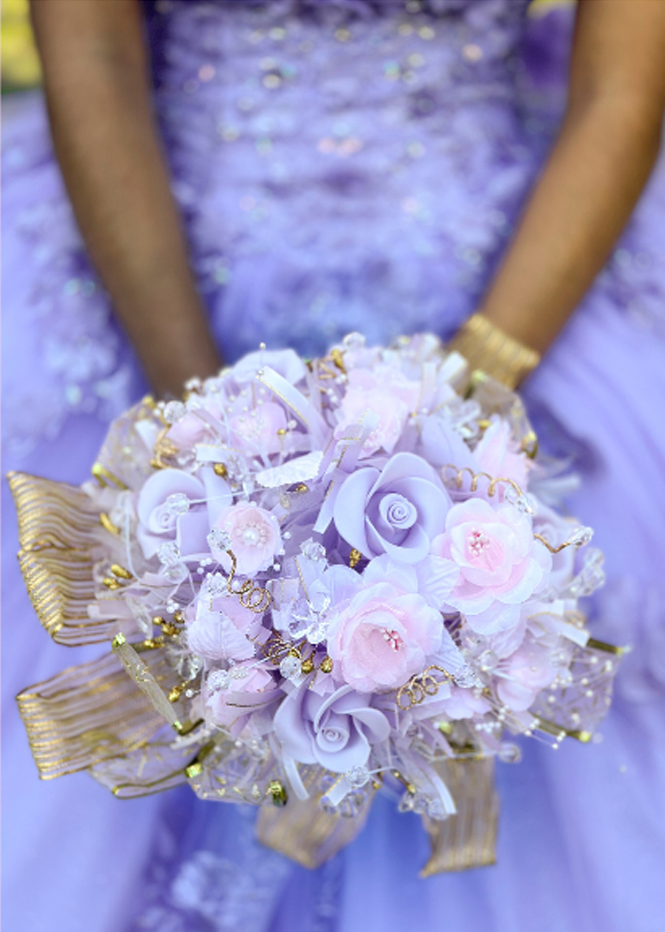 The students have been involved in planning the project, finding a photographer and equipment, finding models, setting up a schedule and preparing and hanging the exhibition.
The curator of the exhibition a high school sophomore Sofia Castellanos, all students models; Rocio Panuco, Virginia Vargas Reyes, and Marissa Flores.
We were helped with the technicalities of photography by Frank Miller, a professional photographer, who generously mentorship and Photography for the show.
The exhibition consists of 12, 8 x 10 matted photographs of the young women in their Quinceanera dresses, together with written work explaining the cultural and emotional reasons behind the celebration.
SPECIAL THANKS TO
curator: Sofia Castellanos
Photography: FRANK MILLER
Portrait models: Rocio Panuco, Virginia Vargas Reyes, and Marissa Flores.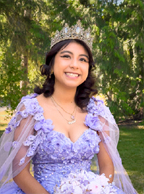 Hey, my name is Virginia Vargas, and I am currently 16 years old, and I am the one in the purple dress. At first, I didn't want to have a quinceñera, mostly because I hate having all the attention on me and having people tell me how pretty I look. But I am the youngest of 5, and of the 3 girls, I am the last one to finish this tradition. The main reason I had my quince was for my grandma so she could attend, but because of COVID-related things, she wasn't able to make it and I ended up having the makeup, the big dress, and all the spotlight on me. In the end, I didn't regret my party, not only was this the first time I had all eyes on me but it was the first time I really saw how my culture plays a big role in my life. I've always identified with being Mexican and will continue for years to come, but this event was not only a party for me but a new outlook on life. Yes, the planning took forever and it was definitely stressful, but it was all worth it in the end to dance with my mom and dad. To hear how proud they were of me and how I can accomplish anything. I am very fortunate to have this once-in-a-lifetime experience and to expand with my roots. Overall, one of my favorite memories from my quince was doing a special dance with my brother. He holds a very special place in my heart, and I am so thankful to have been able to represent that in my quinceñera. Not only is my brother my favorite, but so is my lovely stinky dog, Shadow. I got the chance to take pictures with him and I will forever cherish these photos as we both get older. My quinceñera will always have a meaningful impact on me and my life going forward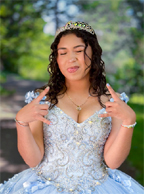 Hi, my name is Rocio Panuco, I'm the model in the blue dress, and I'm currently 17 years old. Ever since I was a little girl I knew I wanted a quinceañera and couldn't wait for the day to come. I remember when I used to live in California, dressing up for my preschool graduation, it was a big fluffy pink dress with sparkles that were as bright as my crown. That same night I went over to my tia's house and I remember my family telling me that I was the prettiest princess and that one day they were going to celebrate the biggest most special day of my life; my quinceañera. Having a quince has always been more than just a big party. It's tradition, culture, a transformation, and entry to womanhood, and I was so fortunate to be able to have one. The week before my quince was a rollercoaster, getting everything ready for this one day. I know a lot of people may think of it that way, "it's just one day". You're right, it is just one day but it's one that you're definitely going to remember. The morning of my quince, I recall waking up and feeling all the nerves I felt from the night before, I got up and got my hair and makeup done, pictures taken, and off I was to church service. Religion was a big part of my life growing up and still is to this day, the words that the pastor spoke to me gave me the chance to connect. It all sunk in, it was at that very moment that I thought to myself, this is it, all the 6 months of planning, debating, rehearsals.. this is it, this was my "one-day event". Thinking about it just makes me feel that emotional connection once again and nothing can describe the feeling of a quieneñera. The feeling when the pastor explained to me what it meant to become fifteen, what it meant to have a quinceanera, and I was grateful. Grateful to be in that dress, thankful to all of those who made my special day possible, for those who made it come true, for my family that came all the way from California just to look me in the eye and tell me that I was the most beautiful princess and say "Today is your big day" and it was, because of them. I will truly never forget that day, and I will always represent my culture and live upon my traditions. I will always keep my quinceñera necklace that my mother placed around my neck and be proud of my becoming a woman.
Hello, my name is Marissa Flores, I am the one in pink, and I am currently 17. My quinceñera was a very sentimental and significant part of my life thus far. It took place on July 31, 2021, after I had turned 15 because it had to be postponed due to Covid-19. I remember feeling anxious leading up to the day since I was nervous about being the center of attention. The pandemic had taken a toll on my social skills and caused me to have pretty bad social anxiety. Looking back to when the day finally arrived, I wouldn't have changed a thing. I was the most confident that I had ever been, my friends and family were by my side throughout everything, supporting me. It was such a special feeling having everyone together again after being separated for so long due to the pandemic. My Abuelo passed away the following year in 2022, and I am just so grateful that he was able to be a part of my quinceñera. This day holds so many memories and emotions, that were only made possible through my culture of being of Hispanic descent. From a cultural stance, quinceñeras are meant to demonstrate that a little girl has become a woman. That is why traditionally, they give you your "ultima muñeca", the last doll, to show that they are not a little girl playing with dolls anymore. Another example is the switch between flat shoes to high heels. I take pride in being Mexican-American, and my culture plays a big part in my life every day and I will never regret and stop being thankful for the opportunity to have this experience.