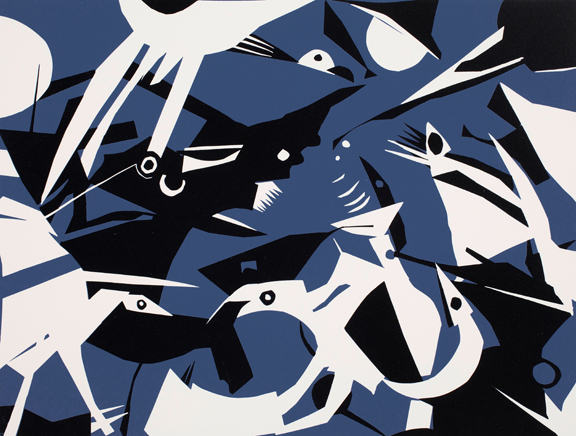 ANNEGRET DISTERHEFT | UNDER THE SURFACE: A RETROSPECTIVE
ANNEGRET DISTERHEFT
Under the Surface:
A Retrospective
May 11 – June 25, 2023 | A.N. Bush Gallery
Opening Night Reception: Friday May 12, 5:30 p.m. – 7:30 p.m.
About my Work
My images are abstract, their shapes reminiscent of the world we know. They are not meant to reproduce the visual world around us, but rather to capture essentials of our perceptions, experiences, feelings and visions of the world we live in, be it the past, present or future.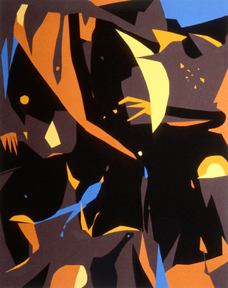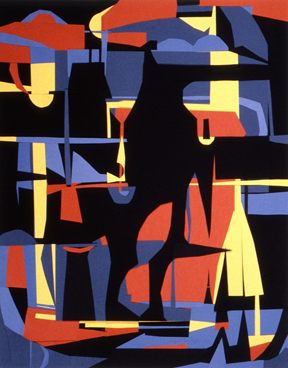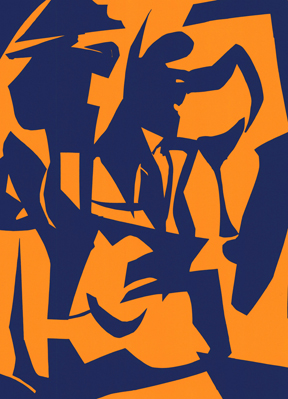 The roots of my artwork when I work with color lead back to my childhood in war-torn Germany.
I was six when the bombs stopped their killing. The only relief from the horror of war was the brief period of my evacuation to a small farm in the mountains in 1944. The ducks and the geese, the cows and the cats, the grass and the swing between trees – life in the country, close to nature and away from danger left a deep impression on me.
Another episode that influenced my life and work occurred several years after the war when the world of ruin, hunger and despair changed and grayness turned into color. Hope arrived in the form of heavy building equipment, in the form of noise and action. Machines and construction were the elements of a new future. Their bright colored circles and squares were the symbols of hope. Germany's reconstruction had a strong emotional impact on me. The world had shifted from a negative to a positive one.
The images of my work might remind the viewer of interactions in nature or of machines and constructions in our man-made world. However abstract my images are, they are reminiscent of reality, of a reality that belongs to my past but has nevertheless shaped my view of the world to the present day. I believe that the memories of the evacuation and the reconstruction of Germany are reemerging in my work in a transformed and refined way. The war is not my subject matter, but the positive and healthy elements of life are.
I cannot predict what the viewer will see or feel when looking at my work, but I hope it will be something that enhances life and inspires energy and perhaps a feeling of celebration.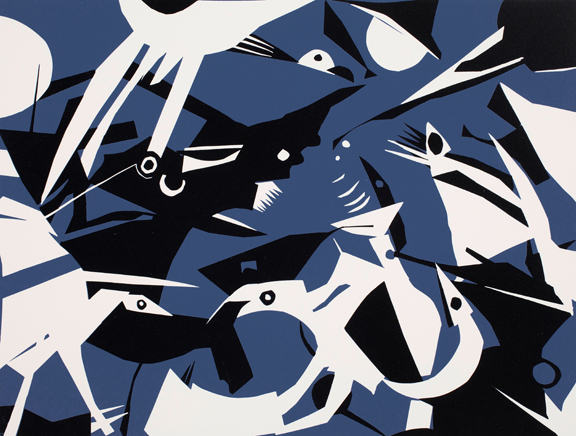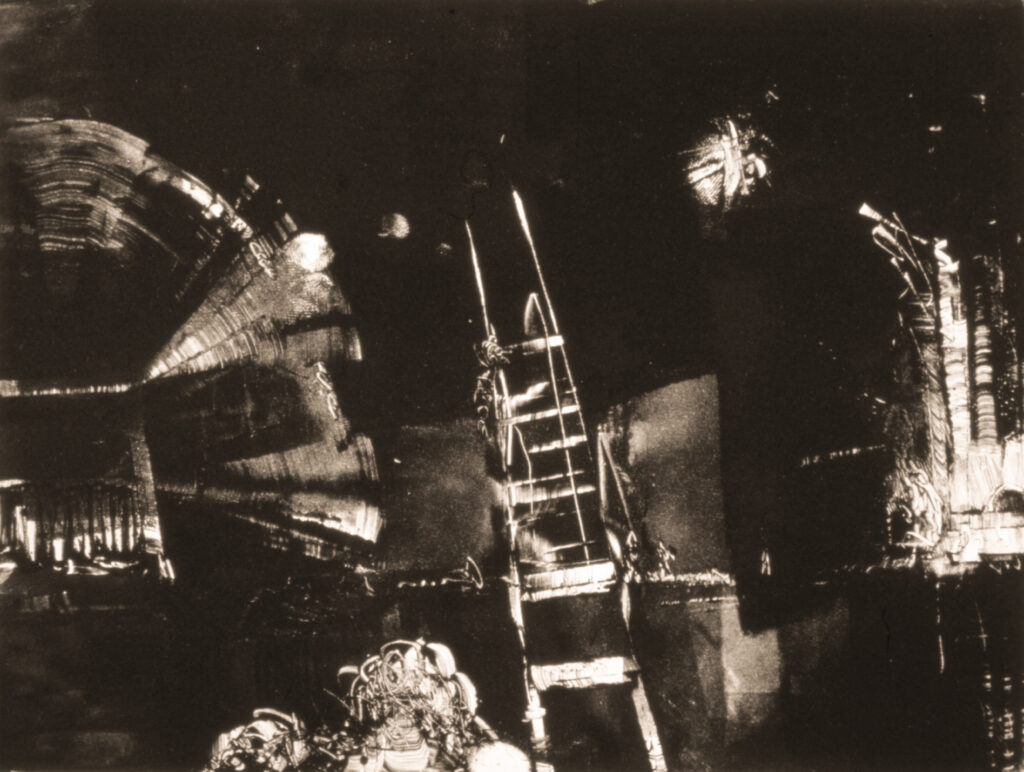 RESUME
ANNEGRET DISTERHEFT
Member of the Los Angeles Printmaking Society (LAPS)
EDUCATION
1989 BFA Marylhurst University, Marylhurst, OR
1985 B.A. in Art, WOU, Monmouth, OR
1964, 1962 Teaching Degrees, Göttingen, Germany
---
SELECTED COLLECTIONS
Whitney Museum of American Art, New York, NY
National Museum of Women in the Arts, Washington, D.C.
Portland Art Museum, Gilkey Center for Graphic Arts, Portland, OR
Hallie Ford Museum of Art, Salem, OR
Oregon Health & Science University, Portland, OR
---
SELECTED EXHIBITIONS
Group, Two-Person and Solo Exhibitions
2023 Under the Surface, Retrospective, Solo Exhibition, A.N. Bush Gallery, Salem, OR
2018 Pacific States Biennial North American Printmaking Exhibition, U. of Hawai'i at Hilo, HI
2015 Delta National Small Prints Exhibition, Arkansas State University, Jonesboro, AR
2014 Pacific States Biennial National Print Exhibition, (juror: Willie Cole), U.of Hawaii at Hilo, HI
2009, 2005, 2003, 2000, 1998 Faculty Exhibit, Art Gallery, Chemeketa Comm. College, Salem, OR
2006 Beyond Perception – Monotypes by Annegret Disterheft, Solo Exhibit, Chemeketa Com. College Gallery, Salem, OR
2005 Ten Years of Monotypes, Two-Person Exhibit, Karin Clarke Gallery,Eugene, OR
2005, 2004, 1997, 1996 Chautauqua National Exhibition of American Art,Chautauqua Institution, Chautauqua Center for the Visual Arts , Chautauqua, NY – 1997 Award
2004, 2000, 1998, 1996 Pacific Prints, Pacific Art League of Palo Alto, Palo Alto, CA – Awards
2001 The Boston Printmakers North American Print Exhibition (juror: David W. Kiehl, Curator of Prints and Drawings, Whitney Museum of American Art, New York), 808 Gallery at Boston, Boston, MA – Juror's Commendation Award
2000 Monotypes, Solo Exhibition, Renshaw Gallery, Linfield College, McMinnville, OR
1999 Prints U.S.A. 1999 (juror: David Kiehl, Curator of Prints and Drawings, Whitney Museum) Springfield, MO
1999 Monotypes, Two-Person Exhibition, Jacobs Gallery, Hult Center, Eugene, OR
1999 Art in the Governor's Office, Monotypes, Solo Exhibition, Oregon State Capitol, Salem, OR
1997 Beyond Boundaries, North American Printmaking Exhibition (juror: Wayne Thiebaud), Richmond Art Center, CA
1997 Monotypes, Two-Person Exhibition, Waterstone Gallery, Portland, OR
1996 Second Annual International Exhibit of Women's Art (juror: Beth Venn, Ass. Curator of the Whitney), Soho 20, NY, NY
1993 Statements About the Human Form, Solo Exhibit, Tambra Gallery, Salem, OR
1999 Art in the Governor's Office, Monotypes, Solo Exhibition, Oregon State Capitol, Salem, OR
1997 Beyond Boundaries, North American Printmaking Exhibition (juror: Wayne Thiebaud), Richmond Art Center, CA
1997 Monotypes, Two-Person Exhibition, Waterstone Gallery, Portland, OR
1996 Second Annual International Exhibit of Women's Art (juror: Beth Venn, Ass. Curator of the Whitney), Soho 20, NY, NY
1993 Statements About the Human Form, Solo Exhibit, Tambra Gallery, Salem, OR