AETERNA | EDDIE CAINE
Aeterna | Eddie Caine
OCTOBER 6 – NOVEMBER 5, 2022 | A.N. BUSH GALLERY
RECEPCIÓN EL 29 DE OCTUBRE, 6:00 - 9:00 P.M.
Altar installation until October 29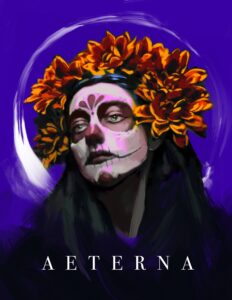 Aeterna (meaning eternal) is a tribute for the souls of the deceased, the sudden goodbyes that often left us empty with only memories to commemorate those we loved. With loss being a common theme in my life and the life of those around me these past two years I wanted to give the community an opportunity to come together in a celebration of life. I've created Aeterna in hopes of reminding people that even though their loved ones have passed they'll always remain in our hearts and minds.
Dia De Los Muertos is a commemoration of the dead and a celebration to them. The belief is that the souls of our loved ones return to celebrate with the living. On November 1st and 2nd family members come together for a joyous remembrance of their loved ones who have passed. They sing, they dance, they feast, and create Ofrendas which are beautiful altars decorated in marigolds, photographs, and mementos to honor and celebrate the lives of those no longer with us.
Eddie Caine está construyendo un altar para y con la comunidad. Le invitamos a participar trayendo objetos y fotografías para colocar en el altar en cualquier momento en que las galerías estén abiertas, de jueves a domingo, de mediodía a 5 de la tarde.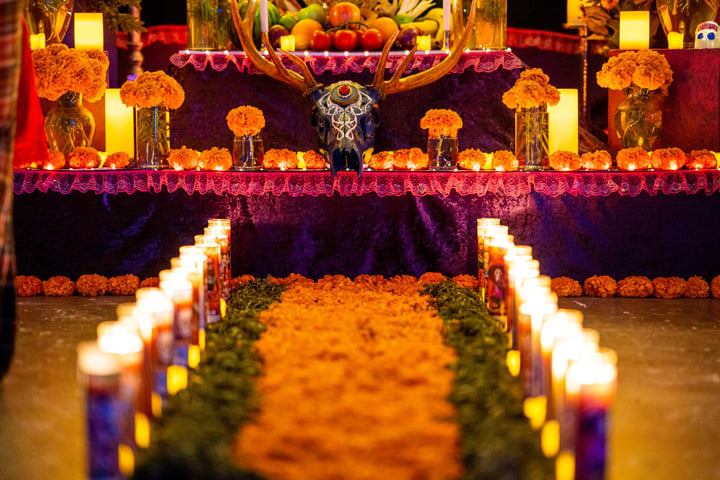 Evento comunitario - Sábado, 29 de octubre, de 6 a 9 p.m.
¡Únete a SAA para una noche de celebración del Día de los Muertos! Habrá música, bailes tradicionales y comida y bebidas mexicanas: ¡todos los ingredientes para una fiesta fantástica! Si asistió al evento del año pasado, ya sabe lo bien que se lo pasó todo el mundo. ¡El evento de este año va a ser aún mejor!
Este es un gran momento para que todos se reúnan para compartir una de las grandes tradiciones culturales de México y construir una comunidad aquí en Salem.
El altar estará abierto hasta el 5 de noviembre.