AETERNA | EDDIE CAINE
Aeterna | Eddie Caine
OCTOBER 6 – NOVEMBER 5, 2022 | A.N. BUSH GALLERY
RECEPTION OCTOBER 29, 6:00 – 9:00 P.M.
Altar installation until October 29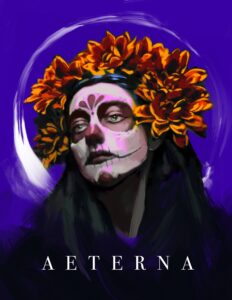 Aeterna (meaning eternal) is a tribute for the souls of the deceased, the sudden goodbyes that often left us empty with only memories to commemorate those we loved. With loss being a common theme in my life and the life of those around me these past two years I wanted to give the community an opportunity to come together in a celebration of life. I've created Aeterna in hopes of reminding people that even though their loved ones have passed they'll always remain in our hearts and minds.
Dia De Los Muertos is a commemoration of the dead and a celebration to them. The belief is that the souls of our loved ones return to celebrate with the living. On November 1st and 2nd family members come together for a joyous remembrance of their loved ones who have passed. They sing, they dance, they feast, and create Ofrendas which are beautiful altars decorated in marigolds, photographs, and mementos to honor and celebrate the lives of those no longer with us.
Eddie Caine is building an altar for and with the community. We invite you to participate by bringing objects and photographs to place on the altar any time the galleries are open, Thursday-Sunday, noon to 5 p.m. Please place the objects on the desk in the A.N. Bush Gallery for Eddie Caine to include, or bring to the October 29 Celebration!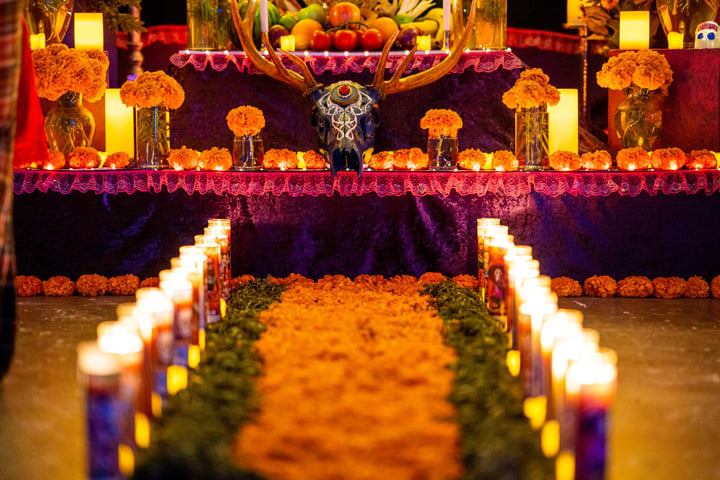 Community Event – Saturday, October 29, from 6-9 p.m.
Come join SAA for an evening celebrating Día de los Muertos! There will be music, traditional dancing, and Mexican food and beverages – all the ingredients for a fantastic party! If you attended last year's event, you know what a terrific time everyone had. This year's event is going to be even better!
This is a great time for everyone to come together to share in one of the great cultural traditions of Mexico and build community here in Salem.
The altar will be open until November 5.