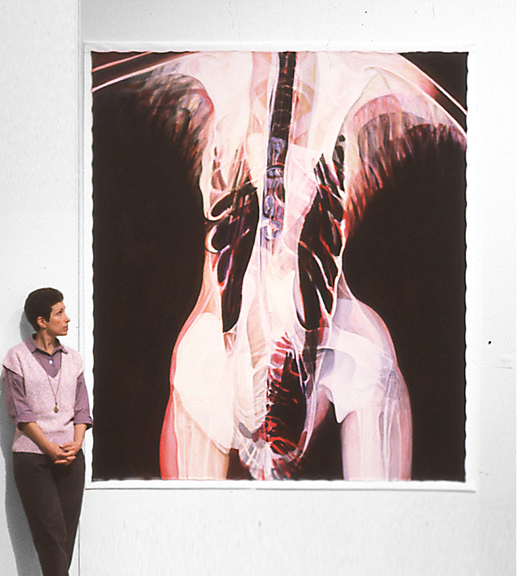 FULL CIRCLE | JO HOCKENHULL
FULL CIRCLE | JO HOCKENHULL
September 2 – October 1, 2022 | A.N. Bush Gallery
RECEPTION September, 9 FROM 5:30 P.M. – 7 P.M.
I am fascinated with the natural world and the place of humans within it. My art often blurs the borders between animals and plants and humans. Since childhood, I have spent hours and days watching the progress of a spider's web, a pea sprout emerging, a poppy unfolding.


My earliest work focused on personal experiences, illuminating my curiosity and discoveries in nature and joy in being human. Later, seeking stronger physiological similarities between human and animal morphologies, I created paintings based on X-ray images, where skin, fur and feathers disappeared, and the underlying structures of living creatures are revealed.
Along with the natural world, my artwork touches on the social issues that have formed my consciousness. In a series of large paintings, I compare the organizations and behaviors of animal societies to our own, reflecting on possibilities for —and against — human survival. "Everlovin' Light" is a direct commentary on the human tendency to consign our problems to oblivion. "The Inheritors" looks at the persistence and interdependence of life forms.

My sketchbooks are filled with drawings from the natural world, sketches of folk art from around the world, quotes from people far more articulate than I, diary-like ramblings, traces of powerful images from dreams and memory. I research what and how science describes living and extinct lifeforms. These are the ingredients, waiting for that moment of connection, when my life presents me with an itch — that serendipitous "Oh, yes!" or "Oh, wow!" I juxtapose images to form new relationships and new connections. Sometimes these connections are humorous, curious or even disturbing. The forms and images have both a decorative quality and a metaphorical or narrative purpose.

I often combine painting and printmaking in a single piece. Experimenting with new materials and mediums energizes me and my work. I think of all my output as "experiments." In allowing the medium to use its own voice, I have a thrilling and sustained relationship to each piece, including a direct physical relationship —scale is always an important consideration. I want the large paintings to overwhelm me, to create a world that I can step into.