VIRTUAL Clay Ball – 2021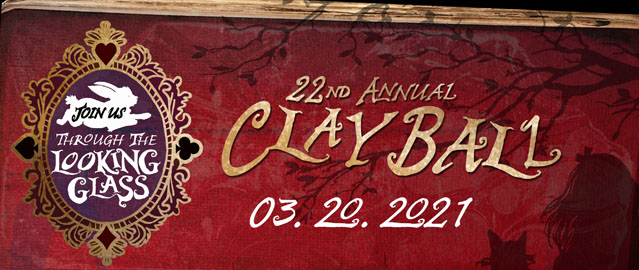 The Annual Clay Ball gala is going virtual! This year's theme, Through the Looking Glass, is sure to generate an exciting atmosphere throughout the evening where, just like Alice, guests will join the party through the virtual mirror where they will find opportunities to engage in playful activities.
The fun starts with the online "silent" auction on Wednesday, March 17, and continues with the live stream event on Saturday, March 20, beginning at 7:00 pm. Both auctions will feature artwork from your favorite local artists and unique experience packages. Join us to celebrate the arts and artists that keep our community thriving while supporting Salem Art Association's yearlong programs and services.
Online "silent" Auction
Opens Wednesday, March 17
Closes, Saturday, March 20
Livestream Program
Saturday, March 20
5:30 pm pre-show
7:00 pm Livestream Program Begins

 WINE AND DESSERT ADMISSION PACKAGE FOR 2 – $80
Bottle of 2016 Bryn Mawr Vineyards, Estate Chardonnay
Bottle of 2015 Bryn Mawr Vineyards, Estate Pinot Noir
Guided virtual tasting with Bryn Mawr Vineyards
One Salem Convention Center Crème Brulee
One Salem Convention Center Huckleberry Chambord Pot du Crème
Pair of special edition SAA stemless wine glasses
Admission for 2 guests


BEER AND CIDER ADMISSION PACKAGE FOR 2 – $45
Mixed six-pack of Gilgamesh Beer (The Terry Porter, Mamba, Pacific Crush IPA)
Two bottles of Wandering Aengus Cider (Dry Oaked & Wickson)
Assorted Kettle Chips
Guided virtual tasting with Gilgamesh Brewing
Pair of special edition SAA Pint Glasses
Admission for 2
This year's Clay Ball is made possible by our fabulous sponsors, including Bryn Mawr Vineyards, Capital Community Media, Collier Law, Evans Batlan Getchel LLC, Gilgamesh Brewing, Huggins Insurance, Kettle Brand, Pioneer Trust Bank, Salem Printing & Blueprint, and Wandering Aengus Cider works.
Sponsorship opportunities are available, for information please contact Stephanie Patterson, Stephanie@SalemArt.org
The Clay Ball is an annual fundraiser to support the Salem Art Association's Program and Services. With the uncertainty of the COVID-19 pandemic, SAA has transitioned our 22nd Clay Ball to a virtual event, including a silent auction, raffle, live auction, and streaming programming. The virtual event will be free to register, allowing SAA to reach a wider audience of art enthusiasts. Please join us for this fun interactive event. Stay tuned for more information and a link to register.