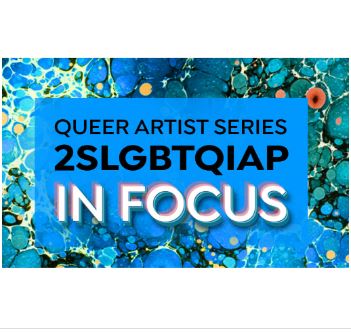 QUEER ARTISTS SERIES: 2SLGBTQIAP IN FOCUS
QUEER ARTISTS SERIES: 2SLGBTQIAP IN FOCUS
MARCH 2023 – JANUARY 2024 | BUSH BARN ART CENTER
We choose this acronym to acknowledge the importance of Two Spirit people in queer community and beyond. 2S stands for Two Spirit.
This series is convened to present work by queer artists. Who are queer artists? What does it mean to be queer and how do queer artists make work that represents a queer perspective? How do we make work and what is it about?
What does it mean to be a queer artist? What is it to be a queer artist and make work? We have a public responsibility to represent ourselves. It is time for us to show our allegiances and for you to show up as allies—inquisitive, open and curious to hear someone's perspective.
Take the time to hear from us and learn about our perspective and experiences.
Series Lineup: